Quick and Easy Masala Cashew Recipe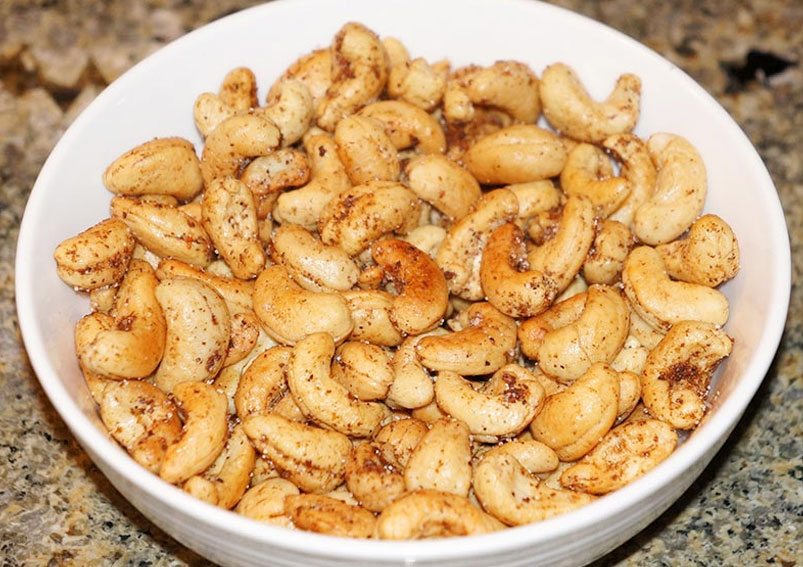 Eating more cashew nuts can lower the risk of cardiovascular disease. This may occur by reducing blood pressure and "bad" cholesterol levels. Cashew Nuts are cholesterol-free and contain good amounts of heart-healthy fats and protein.
Here comes with a different recipe of a Masala Cashews. Follow the step by step process to make Masala Cashew and enjoy the different taste of a cashew nuts.
Ingredients
1.5 cupsCashew nuts (roasted)
1/2 cupBesan (Gram Flour)
4 tblspRice Flour
5 clovesGarlic
5Dry Red Chillies
1/2 tspPepper Powder
1/2 tspTurmeric Powder
1 springCurry Leaves
1 tspSalt
1 cupWate
for deep fryingOil
Directions
Dry and roast the cashews in oil.
Soak the red chillies and garlic cloves in water for about 15 minutes.
Paste garlic and chillies together, which are soaked in water.
To this paste, add the besan, rice flour, turmeric powder, pepper powder and salt and mix nicely.
Finally add the cashews and mix well. Make sure that masala mixture should apply to the cashews.
Cook in a medium heat for 20 minutes until the lentils are cooked.
For deep frying, heat oil in pan.
Add each cashew in the oil for frying.
Fry till it gets golden brown.
Spread the cashews in a paper towel to remove excess oil.
Check for various Snacks recipes
Enjoy the Masala cashew as an evening snack with tea on a cold rainy day or while watching a movie.
- Mayuka
This Recipe Rate :
(0) Reviews