Butterscotch Sauce Sundae Recipe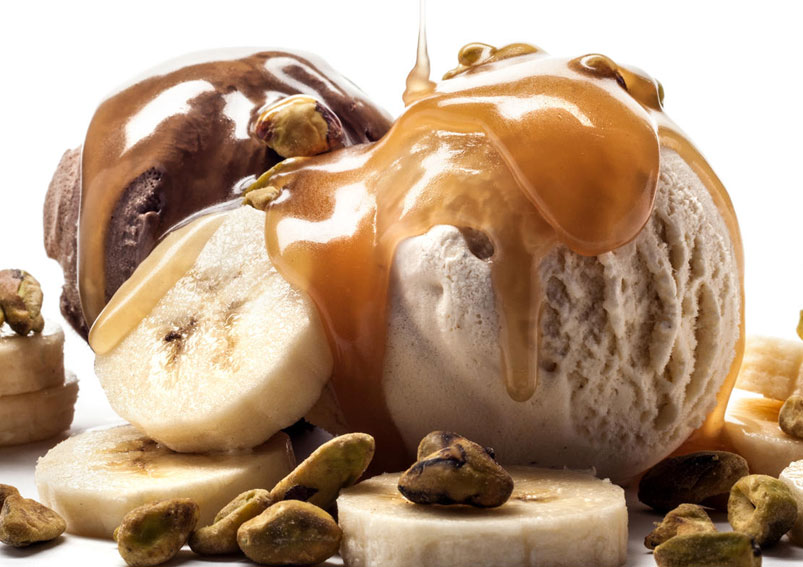 A rich and delicious homemade butterscotch sauce make this ice cream sundae special. Added banana slice and pistachios gives extra texture and flavor to the ice cream.
Butterscotch Ice Cream Sundae Preparation
Ingredients
For the sauce:
8 tbsUnsalted butter
2 tbsLight corn syrup
3?4 cupGranulated sugar
1?4 cupLight brown sugar
1?3 cupHeavy cream
1 tbsDark rum
1 tbsPure vanilla extract
1?2 tbsFine salt
1?2 tbsFresh lemon juice
For the sundae:
2 scoopsVanilla ice cream (1 vanilla scoop, 1 scoop chocolate)
1/2 cupRipe banana (sliced)
1/2 cupLightly toasted pistachios
2 tbsButterscotch sauce
Directions
To prepare Butterscotch sauce:
Heat butter in a pan, add corn syrup and 1⁄4 cup of water in it.
On a medium-low heat, stir constantly until the butter melt.
Add granulated sugar and brown sugar and stir continuously for a min.
Bring the mixture to boil and put it on a medium flame.
Cook until it comes to light brown and place a candy thermometer in sauce,
It should reads to 245°F in 6 to 8 minutes.
Remove from stove. Carefully pour in the heavy cream and mix with rum, vanilla extract, salt, and lemon juice.
Stir to mix well.
Before using it, make it cool in a room temperature.
To prepare sundae:
Take 2 scoops of ice cream in a bowl.
Scatter banana slices and pistachios over the ice cream.
Drizzle with butterscotch sauce.
Finally, Butterscotch sauce Sundae is ready to eat.
[Check for More desserts]
Butterscotch Ice Cream Sundae is perfect to have after lunch as a dessert or in evening. Enjoy it with a flavor of banana and pistachios.
- Mayuka
This Recipe Rate :
(0) Reviews