Green Peas Rice Recipe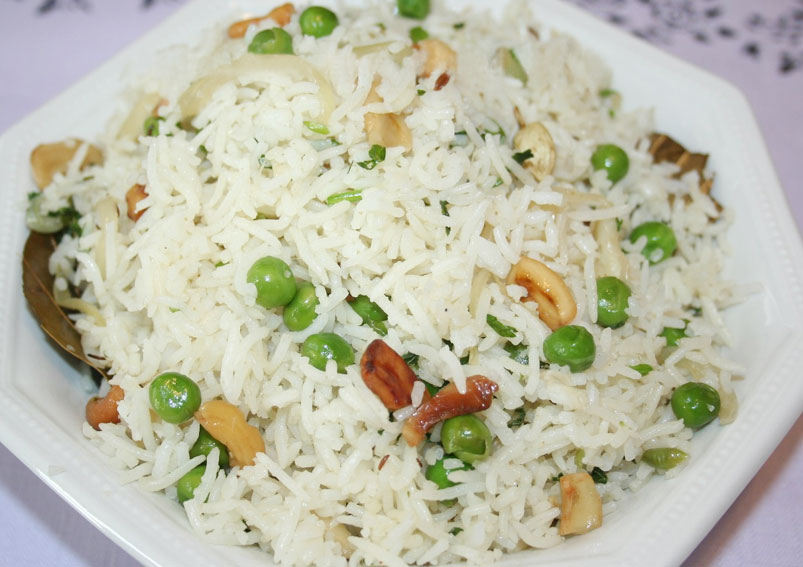 Green Peas Rice is a simple south Indian dish. This rice can be prepared in a short period of time and also tastes delicious. Have this Green Peas Rice with any tomato based gravy or onion pachadi as a side dish.
Check for the recipe of a Green Peas Rice in a step by step process.
Ingredients
2 cupsBasmati rice
1 cupGreen peas
1 big/ 2 smallOnion
1 tspGinger
3Green chilli (finely chopped)
1Bay leaf
3Cloves
2Cinnamon stick
2Cardamon
¼ tspCumin seeds
2 cupsWater
1.5 cupsCoconut milk (diluted with water)
to tasteSalt
2 tbspOil
2 tbspGhee
For garnishing :
8-10Fried curry leaves
4-5Coriander leaves (Cilantro)
Directions
Soak basmati rice in water for 10 minutes before using it.
After 10 min, remove the water completely.
Heat 1 tbsp of ghee in a pan, fry the rice till it releases a nice aroma.
Heat oil and the remaining ghee in the pan, add bay leaf, cinnamon, cloves, cardamom, cumin seeds and fry it.
Add green chilies, onions and ginger-garlic paste and fry for 5 minutes until it gets tender.
Add this mixture with salt, green peas, fried rice, coconut milk and water in a rice cooker.
Simmer it for 5 minutes.
Once rice is done, garnish with cilantro.
Serve with spicy chicken curry or with any vegetarian curry.
This Green Peas rice recipe is simple and easy to prepare. Peas gives a healthy protein content that boost up your energy.
- Mayuka
This Recipe Rate :
(1) Reviews
anusha

Can you give any suggestions it is very helpful for my preparation to how to lose weight