Eggless Pineapple Upside Down Cake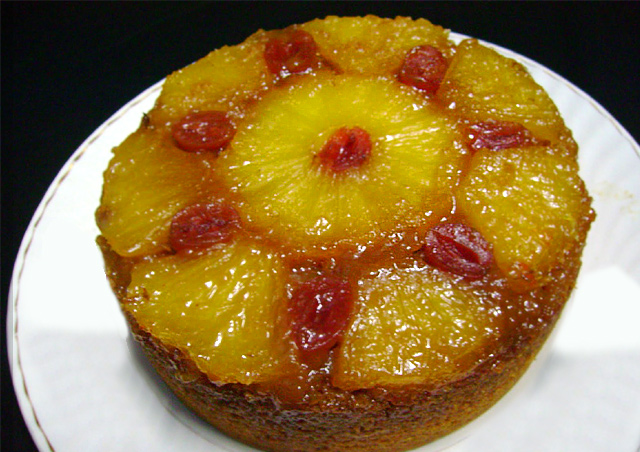 We celebrate our birthday parties and other parties with cake cutting. For that we use to order different varieties and flavors of cakes, finally, what ever available we go with that.. Now with this recipe we can prepare our own cake. Even vegetarians can go with this recipe as it is a pure eggless and contains only fruits.
Let's read about how to prepare this recipe.
Ingredients
Canned pine apple slices
1 tbspWater
250 gmsAll purpose flour (maida)
1/2 tspCooking soda
1 tspBaking powder
100 gmsButter
200 mlMilk maid
50 mlWater
100 mlMilk
1/2 tbspPineapple essence
A pinch Yellow food color
Cherries
4 tbspSugar
2 tbspButter
Directions
Step

1

Heat Sugar and butter till it melts. Add water and flame it till the sugar converts to light brown color. Once it is done drop it into baking pan.

Step

2

Add the cherries and rounded pineapples from syrup on caramel baking pan.

Step

3

Mix the flour, Cooking soda, baking powder for the cake.

Step

4

Well combine the food color and pineapple core, after smoothing the milkmaid and butter in a mixing bowl. Fold in the folur, add and mix the water, milk and baking powder mixture.

Step

6

Add the batter on pineapples and on the spatula. Bake the cake for half an hour in the oven and heat it at 180 degrees C. Remove it once it is done and cool it as per the requirement and serve it.
This Recipe Rate :
(0) Reviews