Apple with Pork chops recipe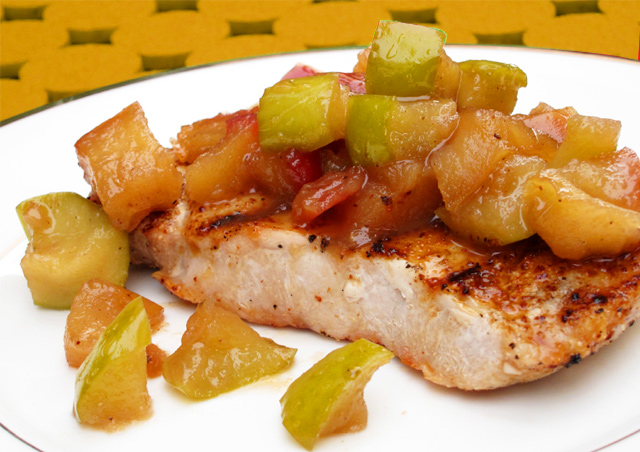 Apple with Pork chops is a healthy recipe as it contains low sodium. Children surely like this recipe.
Let's prepare this recipe and enjoy the dish with our family members and friends.
Ingredients
5Thick pork Chops in 3/4 inch
3 Tart Apples-Cored, peeled and sliced
1 tspGround nutmeg
For Tastepepper and Salt
3 tbspUnsalted butter
1 tspGround cinnamon
3 tbspBrown sugarl
2 tspVegetable oil
3 1/2 tbspPecans
Directions
Step

1

Set the medium dish in the Oven to warm, heat Oven to 175 degrees F (80 degrees C).

Step

2

Add the Oil to the Chops and place it on the hot pan until it's served, before heat a frying pan on medium fire. Now, place it in the warm dish and warm it preheated oven.

Step

3

Mix the pepper, salt, cinnamon, brown sugar and nutmeg in the bowl. Now, add the butter to the skillet and mix in brown sugar and apple mix. Place the apples on top of the chops and heat it in the oven.

Step

4

Cooking process should be carried on. Add the sauce to chops and apples.
This Recipe Rate :
(0) Reviews