Paneer And Spinach Puff Recipe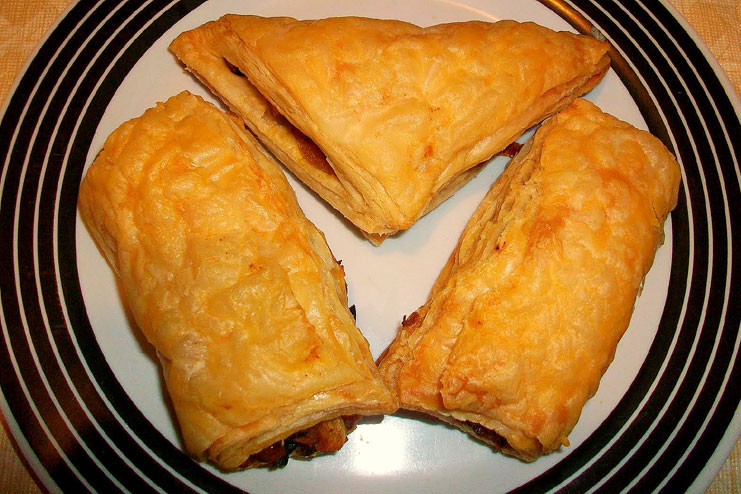 Paneer And Spinach Puff is a perfect tea time snack. This vegetarian option of puffs is very popular and also easy to prepare.This super delicious puff is loved by all. So try this at your kitchen.
Ingredients
200 grams

Paneer

, crumbled
250 gramsSpinach Leaves (Palak), finely chopped
3cloves Garlic, finely chopped
1 teaspoonRed Chili flakes
1 teaspoonGaram masala powder
Saltto taste
for the puff crust
1-1/2 cupsAll Purpose Flour (Maida)
1/4 cupButter, finely chopped
1/2 teaspoonSalt
Directions
To make the puff crust
In a bowl add salt, flour, and butter and knead with your fingers until you get a coarse crumb like mixture.
Add a few tablespoons of cold water at a time and make a smooth and yet firm dough and knead it well and wrap in a cling film and refrigerate for a couple of hours.
For the stuffing
Heat oil in a wok, add garlic and saute for a few second andadd the chopped spinach and stir fry until all the moisture is evaporated.
Once the moisture is evaporated, add the paneer, salt, red chili flakes, and garam masala and fry it well and adjust seasonings according to your taste.
Preheat the oven to 180 and grease the muffin pans with butter and keep it aside.
Place the chilled puff dough on a flat surface and dust flour on the surface and roll the dough into a large square and cut the large square pieces of the dough and place each square into the muffin cavity.
Spoon the spinach and paneer filling into the cavity and bring the edges of the puff together and pinch to seal.
Place the Spinach and Paneer puff in the oven and bake until golden brown and crisp. Once done, remove from the oven and serve warm with a cup of tea.
Meghna Nath
This Recipe Rate :
(0) Reviews