Fruity Fruits Tarts Recipe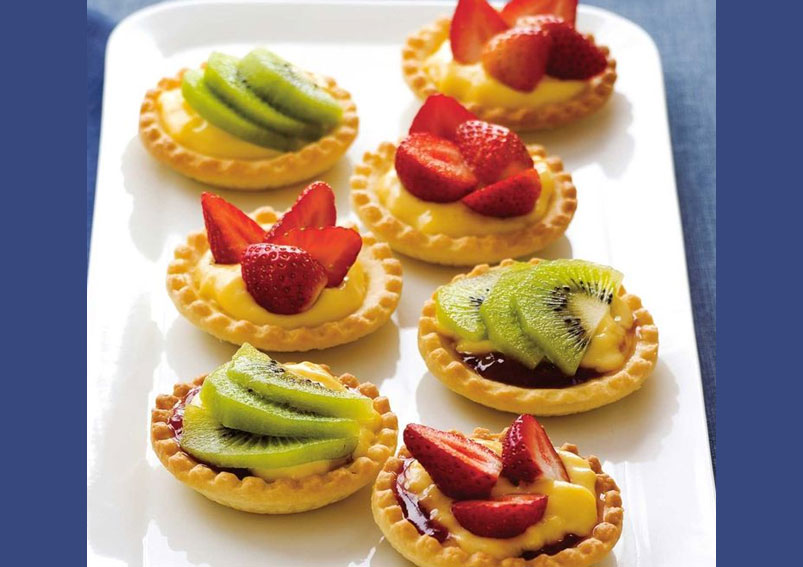 Fruit tart is a delicious and easy recipe that can be prepared using few ingredients. The tart is filled with different seasonal fruits. These tarts are loved by all. This is best for hot summer. Let 's follow this recipe.
Ingredients
For the tart cases
200 gmplain flour (maida)
100 gmsoft butter
pinchof salt
ice-coldwater to make a dough

For the custard sauce

1 1/2 cupsmilk
6 tspsugar
5 tspcustard powder
a fewdrops of vanilla essence

For the mixed fruit

450 gmcanned mixed fruit
2 tspsugar
1 tspcornflour
1 tsplemon juice
a fewdrops orange color

Other ingredients

as neededPraline Powder
as neededorange marmalade

For praline Powder

1/2 cupalmonds (badam) or cashew nuts (kaju) or peanuts
1/2 to 3/4 cupsugar
Directions
For praline Powder
Melt the sugar in a heavy saucepan and add the nuts and spread the mixture on a tin and allow to cool.
Powder coarsely and keep it aside for later use.
For the tart cases
Sieve the flour with the salt and add butter and knead into a dough by adding ice-cold water.
Roll out the dough to about 3 mm. thickness and cut with the fluted cutter of the desired size.
Press into tart cases and prick with a fork and bake blind in a preheated oven at 230 degrees C (450 degrees F) for 10 to 12 minutes and remove it from the oven and keep it aside to cool.
For the custard sauce
In a bowl add custard powder in a little milk and in a pan add milk and sugar and when the milk starts boiling, add the custard powder mixture and boil until thick and stir continuously.
Cool the custard and add the vanilla essence and keep it aside.
For the mixed fruit
Chop the fruit and keep it aside.
Add the sugar and cornflour to the syrup and mix it well and boil until the mixture thickens slightly.
Cool and then add the lemon juice and orange color and add the fruits in the sauce and mix it well.
How to proceed
Fill the tarts with some custard sauce and then with some mixed fruit.
Brush with warm marmalade and sprinkle the parline powder on the sides.
Serve it.
Tips
You can prepare tart cases 1 day in advance and can also prepare the custard sauce 1 day in advance.
Prepare Mixed fruit filling 1 day in advance.
You can also prepare the tarts case? shell 3 hours in advance and store them in the refrigerator.
Variation:
You can decorate these tarts by putting tinned cherries on top and brushing with warm marmalade.
Meghna Nath
This Recipe Rate :
(0) Reviews