Healthy Green Pea Curry Recipe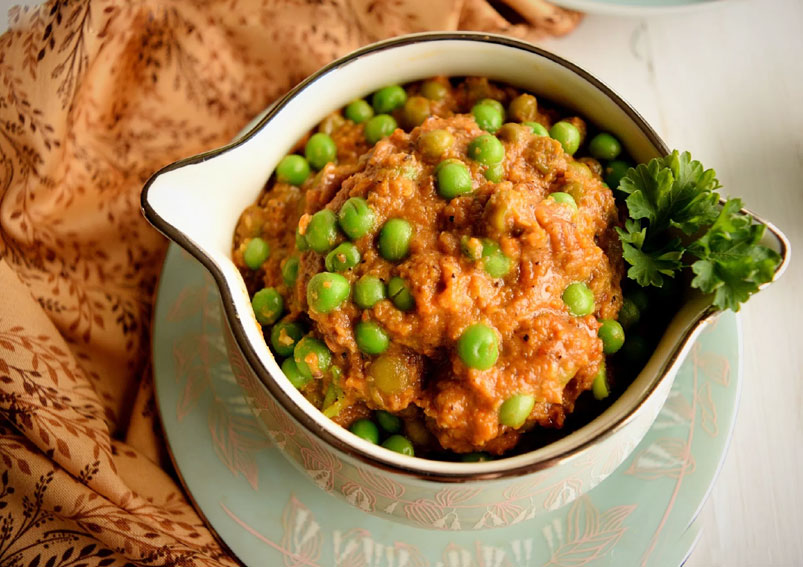 Green Pea Curry is a very simple and delicious dish that is perfect for lunch or dinner with rice or roti. As green pea is low in calories and contains no cholesterol. They are an excellent source of folic acid and also contain an adequate amount of antioxidant, so try to include pea in your daily diet. Let's follow this healthy recipe.
Ingredients
1 cupboiled

green peas

1 cupmilk
1/2 tspplain flour (maida)
1/2 tsproasted cumin seeds (jeera) powder
1/2 tspred chili powder
1 tbsptomato puree
1 tablespoonoil
1/2 tspcumin seeds (jeera)
a pinchof asafoetida (hing)
2 tbsponion paste
Saltto taste
1 tsplemon juice
Directions
In a bowl pour milk, plain flour, cumin seeds powder, chili powder and tomato puree and mix it well and keep it aside.
Heat the oil in a broad non-stick pan and add the cumin seeds and when the seeds crackle, add the asafoetida and onion paste and fry on a medium flame for 1 minute.
Add the milk mixture, green peas, and salt and cook on a medium flame for 5 to 6 minutes or cook till the curry thickens and stir occasionally.
Switch off the flame, add the lemon juice and mix it well.
Serve it hot with roti and rice.
Meghna Nath
This Recipe Rate :
(0) Reviews