Healthy Whole Wheat and Vegetable Khichdi Recipe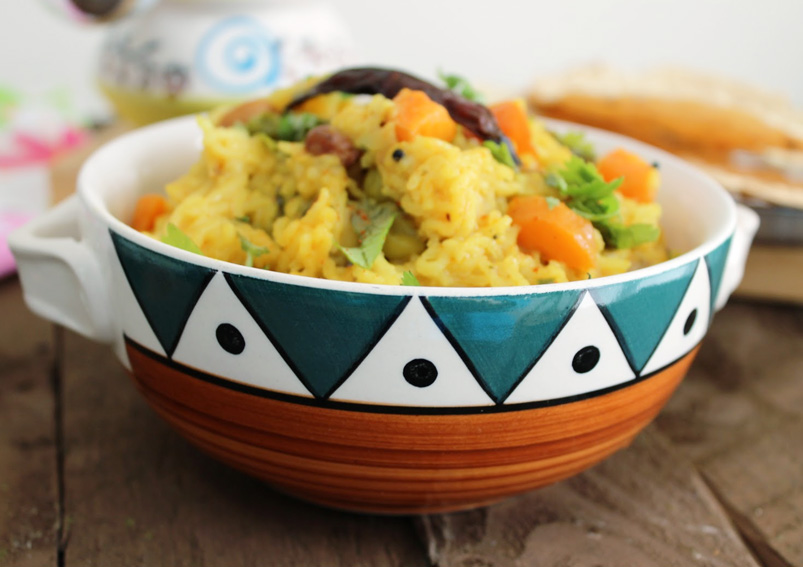 Whole Wheat and Vegetable Khichdi are delicious, low- calorie, wholesome meal which is a best option for lunch or dinner. This Khichdi is a healthy twist to the regular rice and dal Khichdi. This dish is healthy and nutritious dish that is prefect for your family members. This Khichdi is perfect on a busy day. Let's follow this recipe.
Ingredients
1/2 cupwhole wheat (gehun), soaked for 6 hours and drained
1/2 cupyellow moong dal (split yellow gram), soaked for 15 to 20 minutes and drained
1 tspoil
2 to 3peppercorns (kalimirch)
2cloves (laung / lavang)
25 mm (1")stick cinnamon (dalchini)
1 tspcumin seeds (jeera)
a pinchasafoetida (hing)
1/4 cupthinly sliced onions
1 cupmixed vegetables (french beans, carrot and green peas)
saltto taste
1/2 tspturmeric powder (haldi)
1 1/2 tspchili powder
1 1/2 tspcoriander-cumin seeds (dhania-jeera) powder
For The Garnish
1 tbspfinely chopped coriander (dhania)
Directions
In a blender, add the whole wheat and blend to a coarse paste by using approx. ½ of cup water and keep it aside.
Heat the oil in a pressure cooker, add the peppercorns, cloves, cinnamon and cumin seeds.
When the cumin seeds crackle, add the asafoetida and fry on a medium flame for 30 seconds.
Add the onions and fry on a medium flame for 1 to 2 minutes and add the mixed vegetables and fry on a medium flame for 2 to 3 minutes.
Add the ground wheat paste and moong dal, mix it well and fry on a medium flame for 1 minute.
Add the salt, turmeric powder, chili powder, coriander-cumin seeds powder and 3 cups of water, mix it well and cook for 25 min.
Switch off the flame and allow the steam to escape before opening the lid.
Garnish with coriander and serve it with fresh curd.
Nutrient values per serving
Energy 169 k cal
Fiber 1.2 gm
Fat 1.9 gm
Protein 8.3 gm
Carbohydrate 29.6 gm
Vitamin A 110.5 mg
Meghna Nath
This Recipe Rate :
(0) Reviews