Tangy Lemon and Pineapple Ice Cream Recipe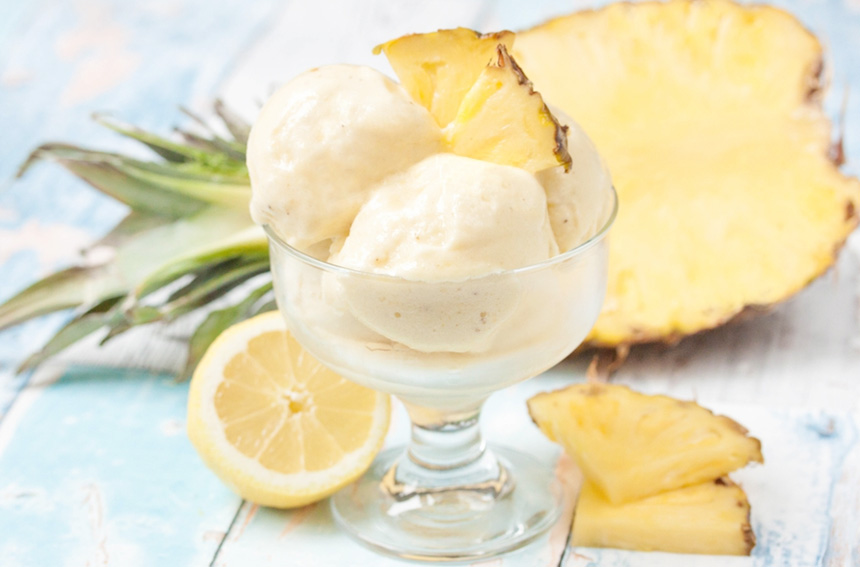 Source: thegreedyvegan.com
Lemon and Pineapple Ice Cream is an amazing, dessert, which is loved by all. It has an amazing tangy flavor of lemon and also has a nice sweet flavor of pineapple. This ice cream is perfect for any occasion and can also be served has a dessert after any meal. Try this ice cream in your home and enjoy this ice cream with your loved once.
Ingredients
2 tsplemon juice
1/2 tsplemon rind
a few dropsof pineapple essence
2 1/2 cupcold milk
1/2 cupSugar
1 tbspcorn flour
1/2 cupfresh cream
a few dropsyellow food color ( easily available in the market)
Directions
In a bowl, add the corn flour with ¼ cup of milk, mix it well and keep it aside
Heat the remaining 2¼ cups of milk in a deep non-stick pan, add the sugar, mix it well and cook on a medium flame for 5 minutes and stir occasionally.
Add the corn flour-milk mixture, mix it well and cook on a medium flame for 4 minutes and stir continuously and keep it aside to cool completely.
Once cooled, add the fresh cream, lemon juice, pineapple essence and yellow food color and mix it nicely with a help of a whisk.
Pour the mixture into a shallow aluminum container, cover it with an aluminum foil and freeze for 6 hours or till semi-set.
Transfer the mixture into a blender and blend till smooth and transfer the mixture back into the same aluminum shallow container, add the lemon rind and mix it well.
Cover with an aluminum foil and freeze for approx. 10 hours or till it set and Keep it in the freezer for 10 hours or till set and once set, remove from the freezer and scoop it and serve it immediately.
Nutrition Info
Energy: 220 cal
Protein: 4.2 g
Carbohydrates: 22.3 g
Fiber: 0.3 g
Fat: 10.7 g
Cholestero: 0 mg
Vitamin A: 236 mg
Vitamin B1: 0.1 mg
Vitamin B2: 0.1 mg
Vitamin B3: 0.1 mg
Vitamin C: 2.2 mg
Folic Acid: 11.1 mg
Calcium: 192.5 mg
Iron: 0.4 mg
Magnesium: 0 mg
Phosphorus: 0 mg
Sodium: 21.7 mg
Potassium: 107.7 mg
Zinc: 0.1 mg
By Meghna Nath
This Recipe Rate :
(0) Reviews