Tasty and Crunchy Muesli Balls Recipe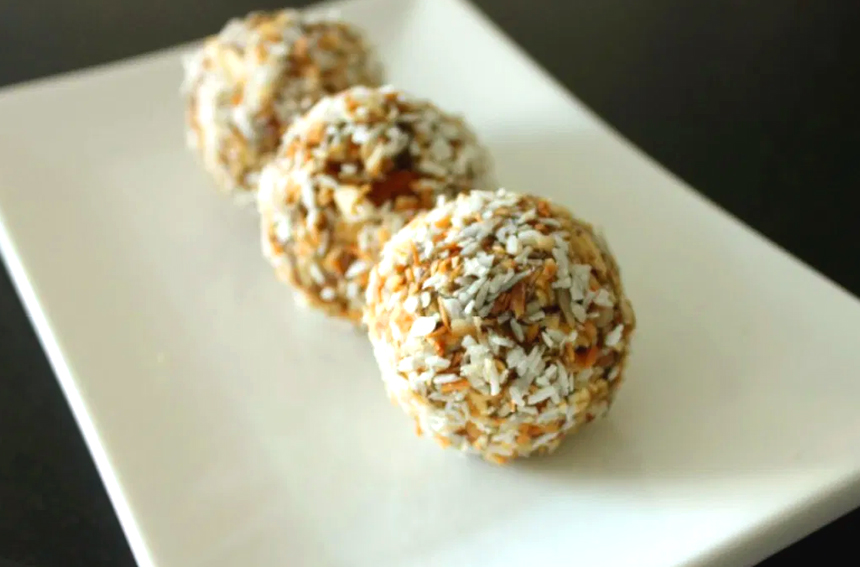 Source: www.onegreenplanet.org
Muesli Balls are a healthy, tasty, crunchy, and a perfect snack for your kid's. This wholesome snack that is made from the muesli. These balls are very nutritious and are good sources of protein, vitamin, minerals. You make this anytime when you want and it is a perfect snack dish to munch whenever you feel hungry.
Ingredients
1 cupmuesli (easily available in the market)
3 tbspbrown sugar
2 tbspjaggery (gur)
2 tbspwheat germ
1 tbsphoney
1/2 tspghee for greasing
Directions
Heat a non-stick pan, add the muesli, brown sugar, jaggery, muesli and honey, mix it well and cook on medium flame for 2 minutes.
Switch off the flame and allow it to cool slightly and divide the mixture into 20 equal portions and roll each portion into a ball.
Store it in an airtight container and enjoy whenever you want to.
Nutrient values per ball
Energy: 43 cal
Protein: 0.9 g
Carbohydrates: 8.9 g
Fiber: 0.7 g
Fat: 0.5 g
Cholesterol: 0 mg
Vitamin A: 0.9 mg
Vitamin B1: 0 mg
Vitamin B2: 0 mg
Vitamin B3: 0 mg
Vitamin C: 0 mg
Folic Acid: 3 mg
Calcium: 2.4 mg
Iron: 0.1 mg
Magnesium: 0 mg
Phosphorus: 0 mg
Sodium: 0.1 mg
Potassium: 5.1 mg
Zinc: 0.1 mg
This Recipe Rate :
(0) Reviews