Tasty Mushroom Paneer Pulao Recipe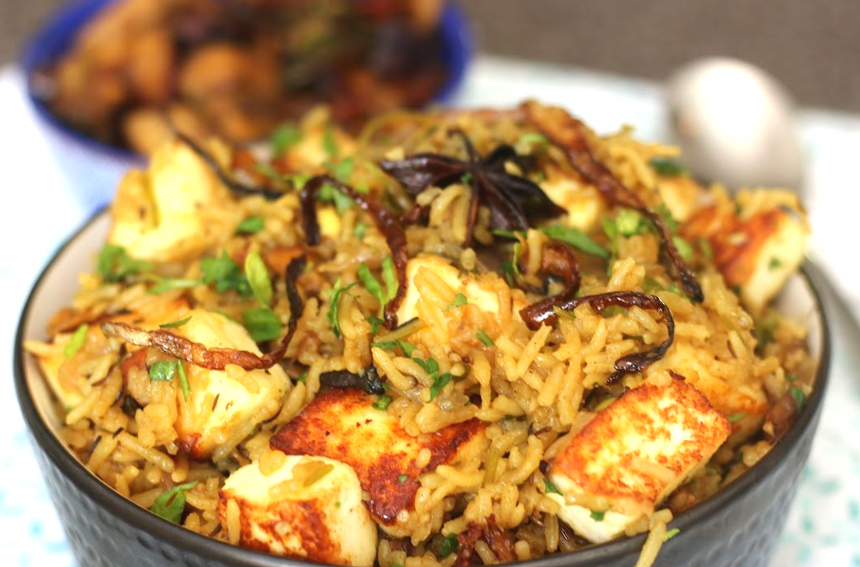 Source: https://www.youtube.com
Mushroom Paneer Pulao is mouth-watering flavored rice dish which is a popular dish in the restaurant. This dish is very quick and easy to prepare and also taste delicious. This dish has a nice taste and flavor of different seasoning and also has a wonderful crunchy taste of various vegetables. This dish perfect option for weeknight dinner. Try this easy and tasty dish at your home.
Ingredients
1 cupButton mushroom
2 tbspGreen peas / matar
4-6French beans, chopped
1/2Carrot, (peeled and chopped)
1-1/2 cupBasmati rice
200 gmPaneer (cut in cubes)
2 tbspGinger-garlic paste
2Green chillies thinly chopped
1/2 tspCumin seeds
3-4Curry leaves
2Small onions thinly chopped
3-4Tomatoes chopped
1/2 tspRed chili powder
1/4 tspTurmeric powder
1 tbspCoriander powder
1/2 tspGaram masala powder
3 tbspCashew nuts paste
1 tbspAlmonds paste
FreshCoriander chopped, as needed
FewMint leaves chopped
Saltto taste
Vegetable/Sunflower oil for cooking
Whole garam masala
1Bay leaf
1Dried Kashmiri red chili
2Cloves
3-4Black pepper corns
1 inchCinnamon
2Cardamoms
Directions
Heat sufficient oil in a pan and deep fry the cubes of paneer until it is slightly golden in color and keep it aside.
Slice the button mushroom and keep it aside and wash basmati rice 2-3 times thoroughly and soak in the water for half an hour.
In a deep pan, add the rice and also add salt in rice and cook it till the rice 75% cooked.
Heat a non-stick pan and add 2 tbsp of oil and add whole garam masala, cumin seeds and curry leaves.
Add green chilies along with ginger-garlic paste and fry for a minute and then add chopped onion.
Fry for few seconds on medium flame until onion translucent and add the chopped tomatoes, vegetables, salt, garam masala powder, coriander powder, turmeric powder and mix it well and cover the pan with a lid.
Cook on a low flame and when the oil starts touching the sides of the pan and then add mushrooms.
Also add cashew nuts and almonds paste and add half cup of water and leave the mushrooms to tender.
When the gravy seems thick then add fried paneer and mix it nicely and add the boiled rice.
Toss and drizzle some drops of water over all on top of the rice and cover the pan and cook on a low flame for 4-5 min.
Finally garnish with chopped coriander and mint leaves and serve it hot with any raita of your choice.
This Recipe Rate :
(0) Reviews