Easy Hyderabadi Style Chicken Biryani Recipe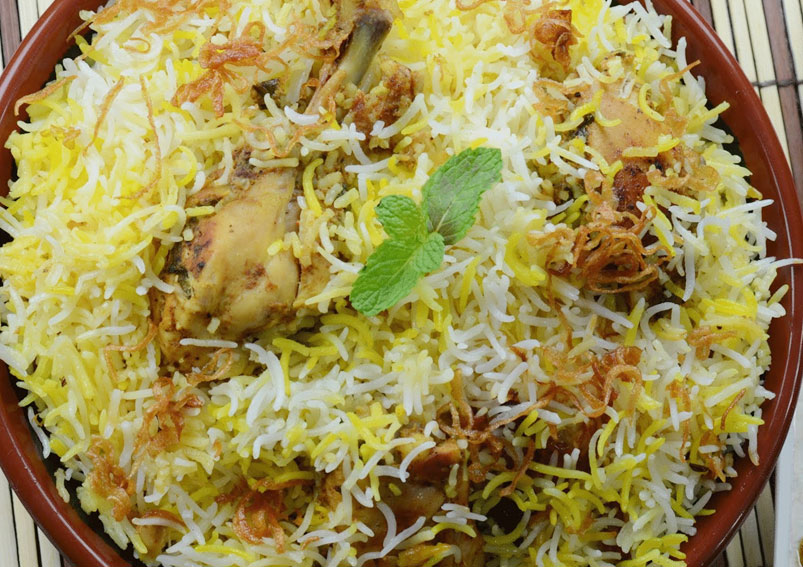 Try this most delicious and Flavorful Chicken Biryani Recipe at home by following step by step preparation process. It is very easy to make and not too spicy for a comforting supper.
Ingredients
1 tablespoonGinger garlic paste
1 cupYogurt
1 teaspoonLemon juice
1 teaspoonGround chili
1 teaspoonGaram masala
2Green chilies
¼ cupCoriander leaves
¼ cupMint leaves
¼ kgWhole chicken pieces
2 tablespoonsGhee
3 teaspoonsVegetable oil
4Onions
5Almonds
2Dried bay leaves
3Cloves
1 inchCinnamon
3Cardamom
600gmsBasmati rice
Directions
Transfer ginger garlic paste to a bowl
Add yogurt, lemon juice, ground chili, garam masla powder, green chilies, salt, coriander, mint leaves to ginger garlic paste
Mix them well and add chicken pieces to it
Marinade the chicken pieces for about 30 minutes
Place a non stick frying pan on flame and add ghee, oil to it
Add onions and fry them well till they turn to golden brown in color
Drain them a paper towel
Add almonds and fry them
Remove them and place them on paper towel
Add the chicken pieces to the frying pan and fry the pieces for about 10 minutes
Place a deep pan on flame and add cold water to it
Add bay leaves, cloves, cinnamon, cardamom to the water
Wash the rice and drain it. Add rice to pan and bring it to boil
When the rice starts boiling, strain the rice from water and spread it on fried chicken pieces as a layer evenly
Drizzle some of the cooking oil along with friend onions and almonds
Continue to cook biryani by covering it with a plate for about 2 minutes
Drain the remaining rice and spread it on top of biryani
Top it with remaining almonds and cover tightly with lid
Cook for 30 minutes until chicken and rice is cooked through
Off them flame and top the boiled biryani with fried onions and coriander leaves.
The tasty and Spicy Chicken Biryani is ready to serve. You can also try the same process for Mutton Biryani.
-Neelima
This Recipe Rate :
(0) Reviews