Tasty Bengali Malpua Rabdi Recipe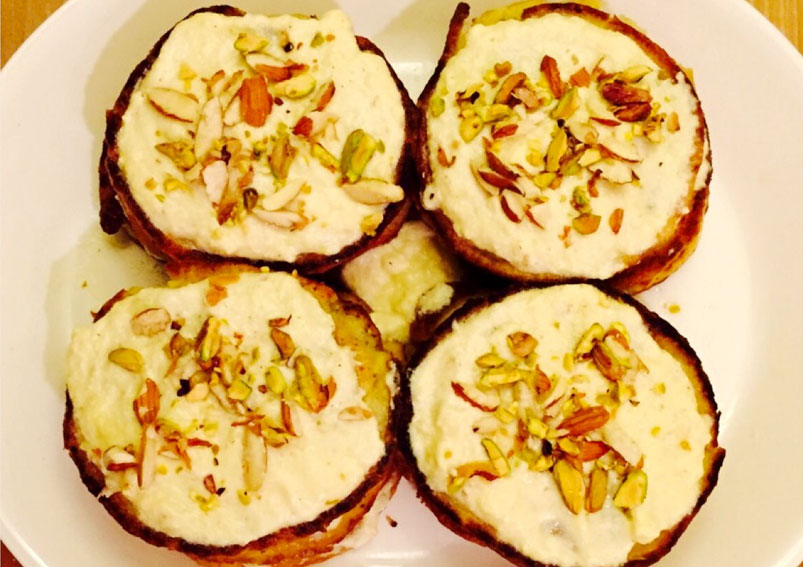 Malpua Rabdi Recipe is one of the Popular South Indian Sweet. A fried fluffy pancake dipped in sugar syrup. The dessert looks yummy with rabdi or even with sweet thickened milk.
Ingredients
1 cupAll purpose flour
1 teaspoonFennel seeds
3Cardamoms
2 pinchesBaking soda
½ cupWater
3 tablespoonsKhoya
3 tablespoonsCurd
3 tablespoonsGhee
½ cupSugar
¼ cupWater
1.25 ltrsMilk
3 tablespoonsSugar for rabdi
5Cardamoms for rabdi
2 pinchesSaffron
1 teaspoonRose water
2 tablespoonsAlmonds
Directions
Start the recipe with preparation of batter. Take a mixing bowl and add 1 cup of all purpose flour, 1 teaspoon of fennel seeds, cardamom powder
Mix them well
Add three tablespoons of khoya and 3 tablespoons of curd
Add ½ cup of water and stir it perfectly and form a thick flowing batter
Mix well to avoid lumps
Allow batter to rest for about 30 minutes
Soak almonds in water and peel off the skin
Slice them into small pieces and keep them aside
Prepare sugar syrup with ¼ cup of water and ½ cup of sugar on low flame. Stir well until the sugar melts
Heat ghee in a pan and add baking soda to it
Mix it well and lower the flame
Gently add 3 tablespoons of batter to the hot ghee and spread the batter lightly with spoon
Fry the batter on low flame till they turn to golden crisp
Flip the malpuas to the other side
Once they are fried, then drain them on paper towels
Place them immediately in warm sugar syrup
Coat the malpuas with sugar syrup and remove them from the syrup immediately
Place them on a serving plate
For better taste, pour rabdi on malpuas
Preparation of Rabdi: Add milk to a flat thickened pan and bring the milk to boil
Lower the flame and continue boiling the milk on low flame
Stir at regular intervals till milk turns to a clotted cream
Do not stop stirring the milk as it gets browned when you stop stirring
Switch off the flame when the milk gets thickened
Add sugar to it and stir well till the sugar dissolves
Add crushed saffron, rose water, sliced almonds and thicken the milk on low flame
Off the flame and remove the rabdi from flame
Pour the mixture on malpua and serve it once it becomes cool.
A best holi recipe warms your heart on a cold winter's day.
-Neelima
This Recipe Rate :
(0) Reviews