South Indian Fish Fry Recipe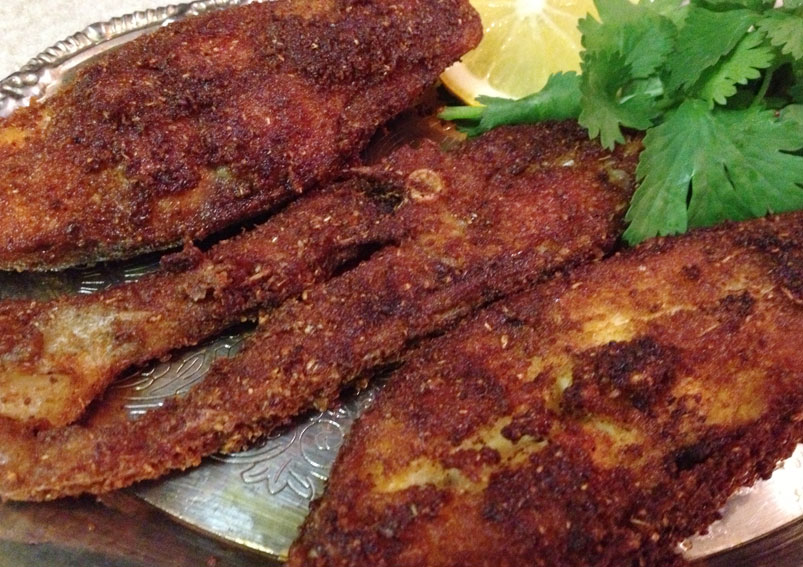 Delicious Fish Fry Recipe is easy to prepare with few ingredients. Have it as a side dish with any dal curry or rasam. Follow the recipe.
Ingredients
6 piecesFish
1 tablespoonGinger garlic paste
2Green chilies
1 teaspoonVinegar
1 tablespoonCoriander leaves
¼ teaspoonTurmeric powder
1 tablespoonRed chili powder
½ tablespoonGaram masala powder
½ teaspoonCumin powder
½ teaspoonCoriander powder
Saltto taste
10 leavesCurry leaves
Directions
Wash the fish pieces with salt and turmeric powder
Dry them for a minute
Place them in a mixing bowl and add salt, turmeric powder, chili powder, vinegar
Mix them well along with the fish pieces
Keep them aside for 10 minutes
Place a pan on flame and add oil for deep frying
Add the fish pieces to the hot oil and fry them till they become crispier
Remove them from oil
Now add ginger garlic paste to the same pan and fry till the raw smell disappears
Add chilies, garam masala powder, coriander powder, cumin powder to the pan and fry them for 30 seconds
Add the fish pieces along with curry leaves at the end and fry them for 5 minutes till all the spices are added to the fish pieces
Place them in a serving bowl and serve it with Healthy Yellow Moong Dal Curry.
7 Life Enhancing Benefits with Fish
-Neelima
This Recipe Rate :
(0) Reviews