Easy Chicken Noodle Soup Recipe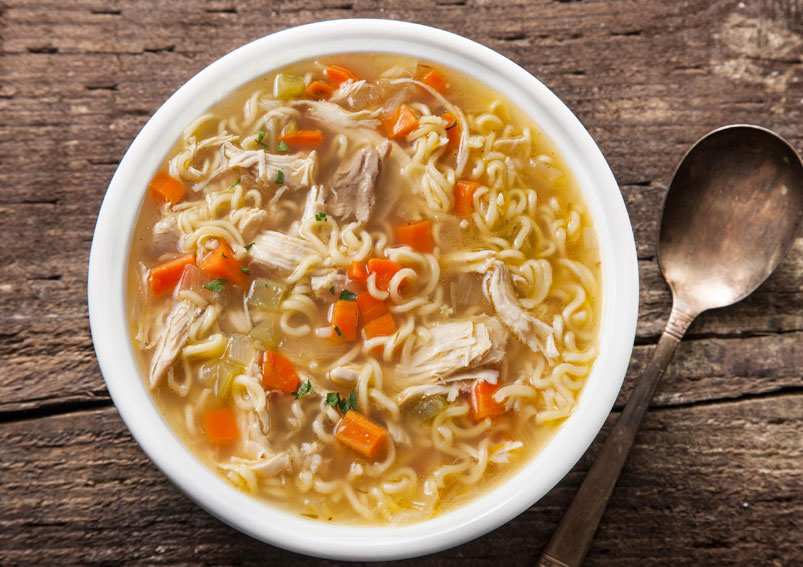 Try Homemade Chicken Soup with chock full of vegetables like carrots, onions along with noodles. Have the soup hot during cold rainy evening.
Ingredients
1 kgChicken
2 cupsChicken broth
5Carrots
4Celery
2Onions
5Black peppercorns
1Garlic
1Bay leaf
2 tablespoonsUnsalted butter
Saltto taste
1 teaspoonGround pepper
3 cupsEgg noodles
Directions
Place chicken pieces and chicken broth in large stockpot and place it on a medium heat
Chop carrots, celery, onion and add them to the chicken broth
Add pepper corn, garlic, bay leaf and add enough water to it
Bring the whole stuff to boil and reduce the heat
Cook the chicken pieces under low flame till they become tender for about one and half hour
Stir it at times
When the chicken pieces turn tender, remove them to a large bowl
Strain them to a large clean bowl and discard all the vegetables
Slice remaining carrots, celery, onion and put them aside
Discard the bones and skin of the chicken
Melt butter in a pan and add the chopped vegetables. Cook the vegetables on medium heat for about 5 to 10 minutes
Add the chicken pieces and served broth, salt and pepper to the cooked vegetables
Boil the mixture till all the vegetables become tender for about 1 hour
Place the egg noodles in the mixture and cook until noodles become tender for about 10 minutes
Off the flame and serve it hot.
You can try the soup with any other seasonal vegetables.
-Neelima
This Recipe Rate :
(0) Reviews