Spicy Black Bean Burger Recipe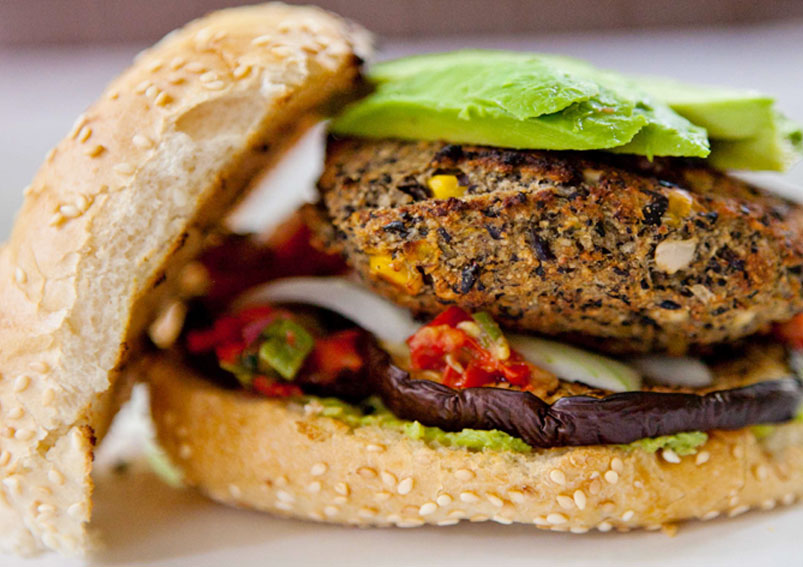 Prepare this Meatless Burger – Black Bean Burger and have a bite with hot sauce. You can have the burger once a while for your lunch. Try this budget friendly vegetarian meal by following the simple steps.
Ingredients
1Onions
1 teaspoonChopped garlic
1 cupBlack beans
2 teaspoonsCilantro
2 teaspoonsParsley leaves
1Egg
1Chili
½ cupBread crumbs
Saltto taste
½ teaspoonBlack pepper grounded
1Tomatoes
¼ cupKetchup
Directions
Place onions, garlic, ½ cup beans, cilantro, parsley, egg, chili in a food processor and pulse to combine them
Transfer the mixture to a bowl and add remaining beans, bread crumbs to it
Add salt and pepper powder. Mix them well
Divide the mixture into 4 portions and form the mixture into patties
Place a pan on flame and oil to it
Add the patties to the hot pan and fry them on both the sides. Top it with tomatoes and ketchup
Place the fried patties on top of the bun and cover it with the other bun. Serve it one piece for your guest.
After having the bread, have a Fresh Guava Juice and complete your meal.
Know whether Eating Black Beans is good for you or not.
-Neelima
This Recipe Rate :
(0) Reviews