Baingan Chutney North Indian Style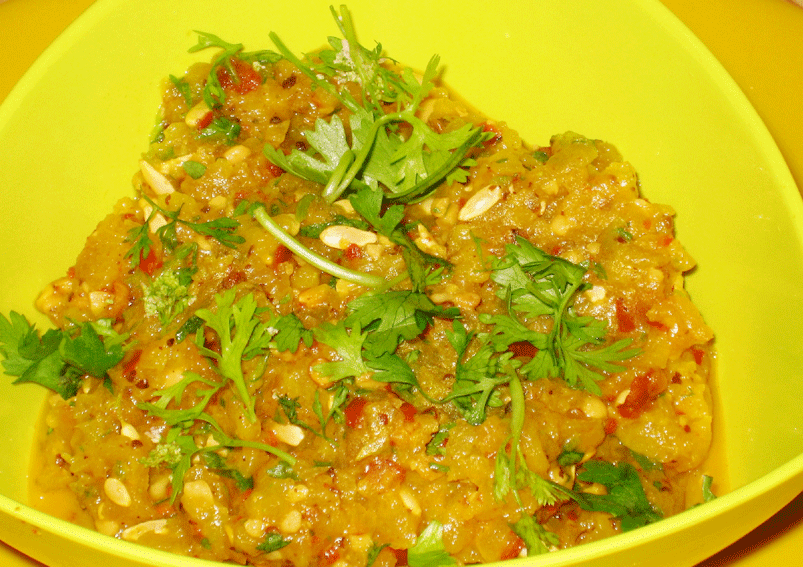 Try this easy and tangy Baingan Bharta Recipe that is prepared with fresh brinjals. You can prepare this delicious aromatic chutney within just minutes. Have it with hot rice and few drops of ghee. Have a look at the recipe.
Ingredients
1Baingan
1 tablespoonOnion chopped
¼ teaspoonGinger garlic paste
¼ teaspoonCarom seeds
¼ teaspoonRed chili powder
1 tablespoonOil
½ teaspoonCumin seeds
½ tablespoonCoriander leaves
Saltto taste
Directions
Wash the baingan with water and dry it for a while
Place it on stove and roast it on fire
Peel the skin and pierce it with hand
Chop the pierced brinjal into pieces and keep it aside
Place a pan on flame and add oil to it
Add cumin seeds to the hot oil and saute them for few seconds
Add chopped onions, ginger garlic paste and fry them for 2 minutes
Add the chopped baingan, salt and red chili powder and mix them well
Off the flame and serve it after garnishing with coriander leaves
You can also add finely chopped tomatoes after the onions get fried. If you want to have Tangy Tomato Chutney, add tamarind pulp and little sugar at the end before removing it in serving bowl. Have the chutney with hot plain rice or Brinjal Rice.
-Neelima
This Recipe Rate :
(0) Reviews