Aloo 65 or Potato 65 Recipe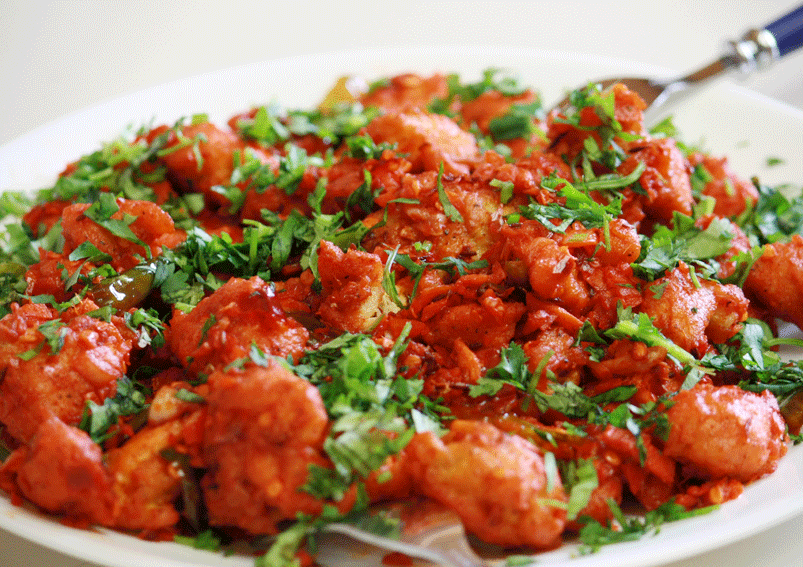 Aloo 65 also called as Chili Aloo is most popular Indo Chinese Recipe that is prepared with potato. It is considered as perfect snacks or finger food for kids. This recipe is short but still tastes excellent. Have a look at the recipe.
Ingredients
4Potatoes
3 tablespoonsMaida / All purpose flour
3 tablespoonsCorn flour
4 leavesCurry leaves
1 teasponRed chili powder
½ teaspoonCoriander powder
½ teaspoonCumin powder
½ teaspoonBlack pepper powder
½ teaspoonGaram masala powder
2 teaspoonsGinger garlic paste
1 teaspoonLemon juice
½ tablespoonCoriander leaves
Water
Saltto taste
Oil forfrying aloo
Directions
Boil potatoes in pressure cooker
Drain the water and set aside to cool
Peel the skin off and slice them into cubes
Take a mixing bowl and add maida, corn flour, curry leaves, red chili powder, coriander powder, cumin powder, black pepper powder, ginger garlic paste, lemon juice, coriander leaves, salt and required water to it
Make thick batter and add the diced boiled potatoes to it
Fry the potatoes coated with batter 5 at a time till they turn golden brown in color or till they turn crisp
Remove them on kitchen towel and serve them in plate with Gongura Chutney
If you want the fried potatoes red in color, you can add food color to the thick batter. But if you want artificial color to your potatoes, you can use red chili powder instead of food color. Make sure not to over boil the potatoes.
-Neelima
This Recipe Rate :
(0) Reviews