Tasty and Healthy Broken Wheat Pongal Recipe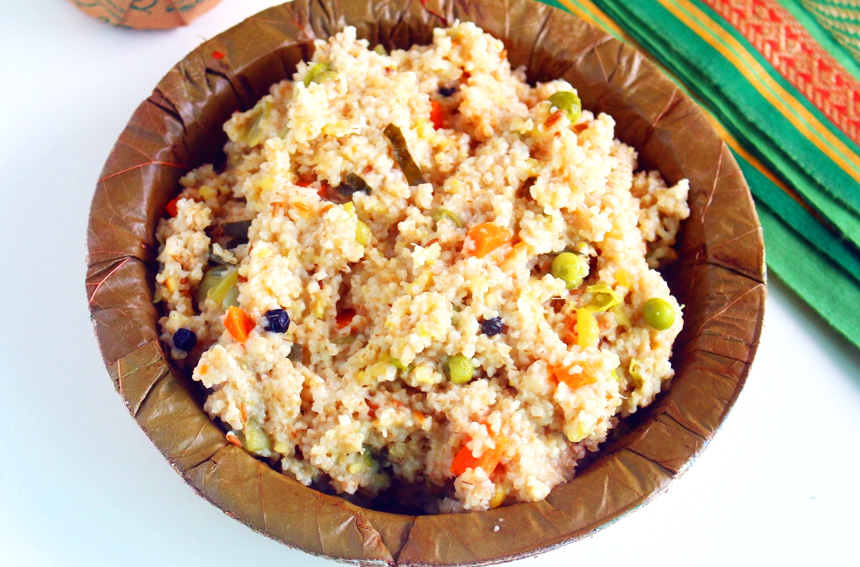 Source: https://www.jeyashriskitchen.com
Pongal is a most popular breakfast of South India and traditionally made with rice or rava. Here is the healthy innovation of transitional Pongal, instead of rice Broken wheat is used. This Pongal is loaded with protein, vitamin, and minerals and a healthy option for morning breakfast. Let's follow this healthy and tasty Pongal recipe.
Ingredients
1/2 cupBroken wheat (dalia)
1/2 cupYellow moong dal (split yellow gram)
2 tspOil
1/2 tspCrushed black peppercorns (kalimirch)
1/2 tspCumin seeds (jeera)
1/4 tspAsafoetida (hing)
4Curry leaves (kadi patta)
1/2 tspGinger (adrak) paste
2Whole dry Kashmiri red chilies, broken into pieces
1/4 tspSalt
Directions
In a bowl, soak the broken wheat, yellow moong dal and also add enough water and soak for 15 minutes and drain the water from it and keep it aside.
Heat the oil in a pressure cooker; add the peppercorns and cumin seeds and fry on a medium flame for a few seconds.
Add the asafoetida, curry leaves, ginger paste and dry red chilies and fry on a medium flame for 30 seconds.
Add the soaked broken wheat-yellow moong dal and salt and fry on a medium flame for 1 minute.
Add 2½ cups of water, mix it well and cook for 25 min and switch off the flame and allow the steam to escape before opening the lid.
Serve it with coconut chutney and enjoy a hearty breakfast.
Nutrient values per serving
Energy: 124 cal
Protein: 4.9 g
Carbohydrates: 20.5 g
Fiber: 1.5 g
Fat: 2.4 g
Cholesterol: 0 mg
Vitamin A: 25.4 mg
Vitamin B1: 0.2 mg
Vitamin B2: 0 mg
Vitamin B3: 1.1 mg
Vitamin C: 0 mg
Folic Acid: 11.4 mg
Calcium: 6.1 mg
Iron: 19.3 mg
Magnesium: 0 mg
Phosphorus: 0 mg
Sodium: 175.5 mg
Potassium: 38.9 mg
Zinc: 0 mg
This Recipe Rate :
(0) Reviews