Indian Chicken Tikka Masala Recipe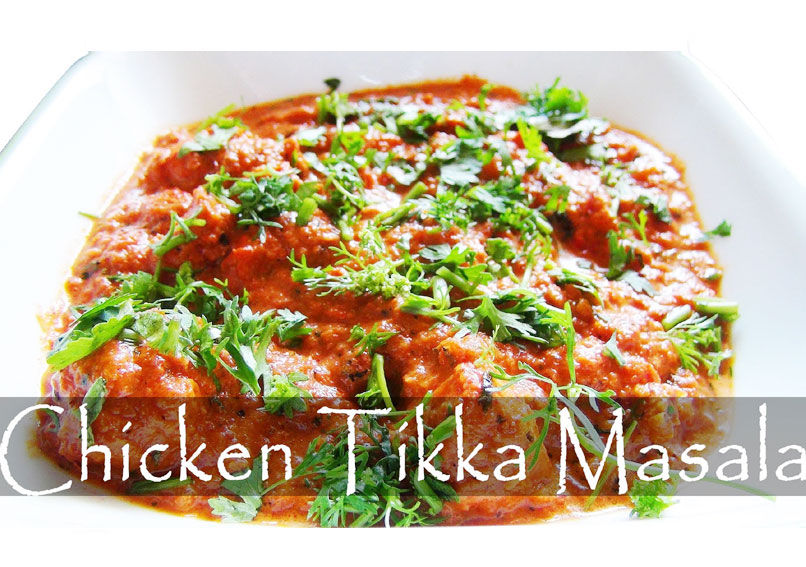 Authentic Chicken Tikka masala is turned out to be extremely popular and an easy recipe that is prepared by marinating the chicken in yogurt and spices. Follow the recipe below.
Ingredients
1 cupPlain yogurt
3 teaspoonsGinger garlic paste
Saltto taste
½ teaspoonGround black pepper
¾ kg cut into small piecesBoneless chicken
2 teaspoons

Olive oil

3 tablespoonsButter
2 tablespoonsTomato paste
1 teaspoonGaram masala powder
1 teaspoonChili powder
2Green chilies
1 cupTomatoes
2 cupsWater
½ cupHeavy cream
1 tablespoonsCilantro
Directions
Taka a large mixing bowl and add chicken pieces to it
Add yogurt, ginger garlic paste, salt, ground black pepper, green chilies
Mix them well with chicken pieces and marinate it for atleast half an hour
Place it in refrigerator overnight if you have time to prepare
Place a large skillet on flame and add oil, butter to it
When the oil is heated, add ginger garlic paste and saute it for few seconds
Add tomato paste to it and cook till oil from tomatoes oozes out
Add garam masala powder and saute for 1 minute
Add salt and 1 cup of water to the tomato mixture and boil it on low flame for about 20 minutes
Make arrangements for grill
When the grill is hot, brush it with oil and place the chicken pieces on grill
Cook them for about 2 minutes till all the sides are perfectly roasted
Add the tomato mixture to blender and blend it to a fine paste
Transfer back the tomato mixture to skillet and boil it for some more time
Add the grilled chicken pieces to the pan and boil it for 3 minutes
Off the flame and garnish, it with chopped coriander leaves at the end.
Serve the curry with hot plan rice or even with Vegetable Fried Rice.
-Neelima
This Recipe Rate :
(0) Reviews