Easy Almond Ice Cream Recipe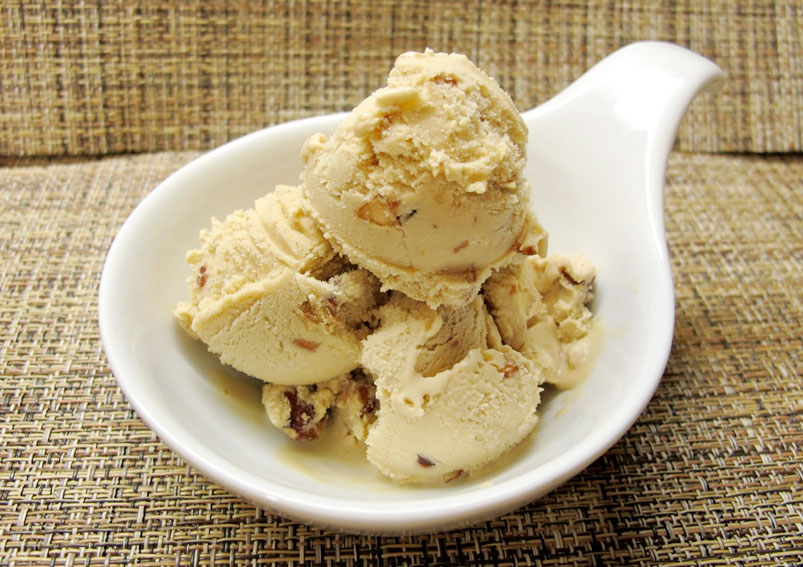 Try this Homemade Almond Ice Cream Recipe and add nutty crunch almonds to make the ice cream tastier. Have a quick look at the preparation process.
Ingredients
3 tablespoonsUnsalted butter
¾ cupAlmonds
¼ teaspoonKosher salt
1 cupWhole milk
2 cupsHeavy cream
1 teaspoonVanilla extract
1 teaspoonAlmond extract
Directions
Place a skillet on flame and melt the butter
Add almonds and kosher salt to it
Cook on low flame until almonds are toasted and turn to golden brown in color
Off the flame and cool it for some time
Place the mixture in refrigerator and chill the nuts
Add sugar to the milk and combine them well until the sugar totally dissolves
Add the heavy cream and mix it well
Chill the mixture immediately
Place the milk mixture in the ice cream maker and turn on the machine
Pour the mixture in freezer bowl and freeze it for about 20 minutes
Chop the almonds roughly and add the chopped almonds during the last 5 minutes
Turn off the machine so that the cream will have a soft creamy texture
Transfer the ice cream to an air tight container and place it in freezer for about 2 hours
Take out the ice cream before 10 minutes ahead when you are about to serve.
Try the other dessert Easy Coconut Milk Cream for your kids if they are interested to have any sweet dish.
-Neelima
This Recipe Rate :
(0) Reviews