Bengali Special Sandesh Recipe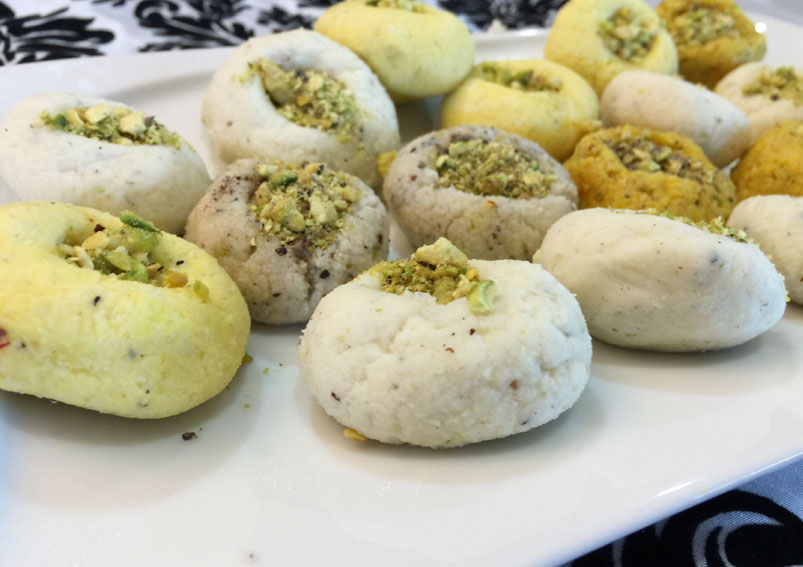 Sandesh is a simple and delicious sweet made with crumbled paneer and powdered sugar. It tastes excellent with aroma of cardamom and is a mouth watering Bengali sweet preferred for many occasions or poojas.
Ingredients
2 cupsFresh paneer
½ cupAlmonds and pistachios
3 stripsSaffron strands
1 tablespoonWarm milk
½ cupMilk powder
½ cupPowdered sugar
½ teaspoonCardamom powder
1 teaspoonRose water
½ teaspoonPistachio essence
Directions
Place a pan on flame and add milk to it.
Heat the milk until it just boils.
Turn off the flame and add few drops of lemon juice at a time. Stir the milk constantly while adding the lemon juice.
As a result the sold curd separates from the liquid.
Place cheese cloth on the pan and strain out the liquid from solid.
Allow the sold part to cool for atleast 10 minutes.
Squeeze liquid from the solid part and remove excess water from it.
Soak almonds and pistachio in warm milk and keep it aside so that you can use them as topping for future use.
Combine sugar, milk powder and paneer in the milk.
Mix them well and cook the mixture on medium flame till the doughty mixture is formed.
When the mixture become slightly solid, then add rose water to it and off the flame. Allow the mixture to cool.
Add sugar powder if required and cardamom powder to dough.
If you are adding pistachio essence, then add it with sugar powder.
Grease the molds with ghee and place the batter in molds.
Put a little topping of almonds, pistachios and saffron on the batter placed in molds.
Press some paneer mixture on top of the molds and chill it after few hours.
The tasty Sandesh is ready to serve to your guest. You can use any kind of dry fruits or nuts instead of almonds. Looking for some other interesting recipe instead of Sandesh, try this Malpua Rabdi.
-Neelima
This Recipe Rate :
(0) Reviews