Easy South Indian Masala Dosa Recipe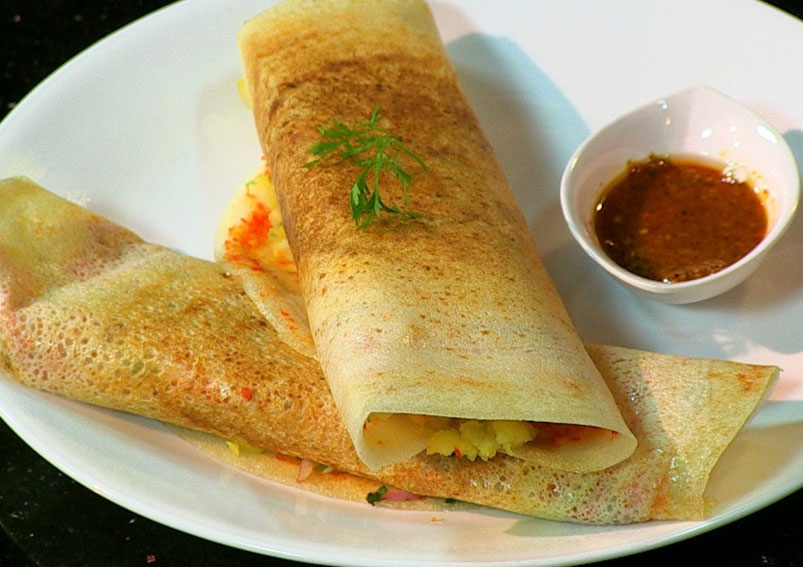 Masala Dosa is heart favorite recipe not only for Indians but also for people in many other countries. It is one common menu included in many Indian restaurants. Know how to make Masala Dosa at home.
Ingredients
Dosa batter
Oil
3Potatoes
1Onion
5Curry leaves
2Green chilies
1 tablespoonCilantro
¼ teaspoonMustard seeds
¼ teaspoonChana dal
Turmeric powder
¼ cupGreen peas
3Banana leaves
Pepper
Lemon juice
Directions
Boil the potatoes and mash them perfectly
Take a pan and heat oil init
Add mustard seeds, chana dal and curry leaves. Let them splutter and add green chilies to it
Add sliced onions and let it saute for about 2 minutes
Ad mashed potatoes and green peas to the mixture and cook for 5 minutes. Add water if required
Add the chopped cilantro on the top
Place the dosa griddle on high flame and pour spoonful of dosa batter on it
Spread it using the back of the spoon by making concentric circular motion
Add few drops of oil to it
Once the sides of the dosa are cooked or turned to golden brown, flip the dosa and cook the other side too
Flip the dosa after 30 seconds and place the above potato mixture in the center of the dosa
Cover the masala with dosa as shown in the picture
The Tasty Masala Dosa is ready to serve
Serve it with coconut chutney or even with Udipi Samabar. Have breakfast like a king and lunch like a prince. Know the Benefits of Breakfast.
This Recipe Rate :
(0) Reviews