Peanut Butter Swirl Brownie Recipe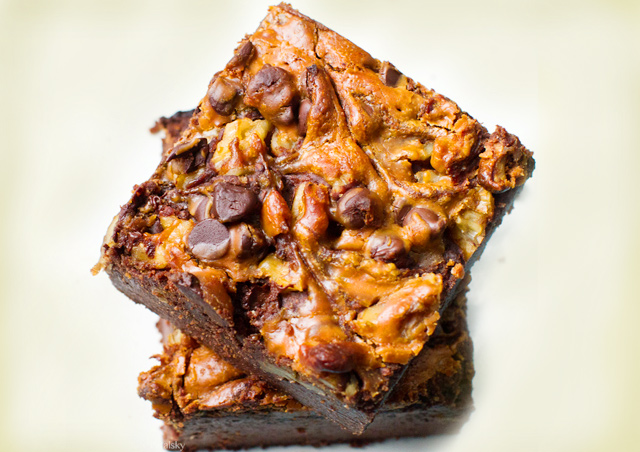 Enjoy the delicious peanut butter treat with your family and friends. Let us know how to prepare this recipe.
Ingredients
22 tbsp(3 sticks) unsalted butter, at room temperature
5Ounces semisweet chocolate, chopped
6Room temperature large eggs
1 CupPacked light brown sugar
9 OuncesCream cheese, at room temperature
2 CupCreamy peanut butter
2 Cupall-purpose flourc
3 CupsSugar
2 teaspoonVanilla extract
1 Cupconfectioners sugar, sifted
1/2 tbspSalt
Directions
Step

1

After heating the pan with foil, melt chocolate with butter in a small saucepan over low heat. Drop it in a jar and cool it at room temperature.

Step

2

Mix the ingredients like cream peanut butter, brown sugar, cream cheese and remaining 1/2 stick butter until well combined using mixer and add 1 egg.

Step

3

Mix the sugar, vanilla, chocolate and 5 eggs into the jar. Swirl the mixtures with sharp knife after adding the peanut-butter into it. Please check that the toothpick inserted into center comes out with a few moist crumbs attached while baking for 50 mins and cool in pan on a wire rack.

Step

4

Take 2 inch cookie cutter, cut into required football shapes out of brownie after adding 2 tbsp cold water into confectioners sugar. Make sure that the mixture forms a smooth and thick paste. Add pipe laces into brownies and set it to serve.
This Recipe Rate :
(0) Reviews