Neer Mor (Buttermilk) Recipe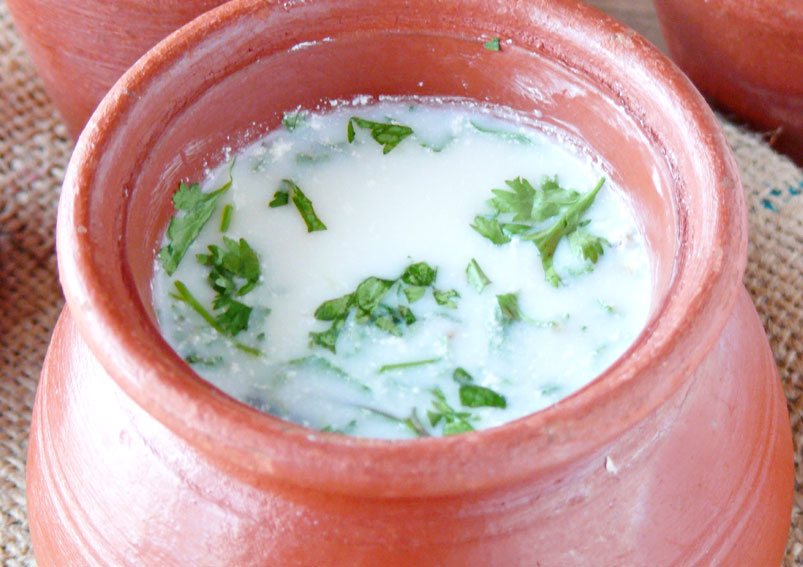 Neer Mor is an authentic South Indian buttermilk recipe. This drink is refreshing, healthy summer drink made with fresh curd. This curd based drink is perfect for sweltering heat during the summer.
Ingredients
1 cupThick

curd

/ plain yogurt
4 cupsWater
2Green chili
1 tbspChopped ginger
1 tbspChopped coriander
1 sprigChopped curry leaves
As neededSalt
1 pinchAsafoetida
1/2Lemon(optional)
fistfulcoriander leaves
(Adjust water quantity depending upon your curd's thickness and sourness)
To temper
1 tspOil
1 tspMustard
1 pinchAsafoetida
1 sprigCurry leaves
Directions
Chop ginger, green chili, coriander, and curry leaves very finely and in a bowl, pour the thick curd.
Whisk the curd smoothly and add chopped ginger, green chili, coriander, curry leaves, asafoetida, salt and add water and mix it well and if needed, squeeze the lemon.
For the Temper
In a pan with oil add mustard, asafoetida, and curry leaves and fry it and pour this temper to the curd mixture and mix it nicely.
Keep the Buttermilk in the refrigerator and serve it chill.
Notes:
If the buttermilk is not that sour and then you can squeeze a lemon or even if you like tangy flavor, you can add.
Add a pinch of asafoetida raw and rest while tempering, both together gives a great flavor.
Instead of chopping finely, you can also try to grind the chili, ginger, and few curry leaves to add it in the buttermilk.
You can use a hand blender
Make sure you beat/ whisk the buttermilk well because the frothy top adds a lot of flavor.
Also, Read Easy Sweet Lassi Recipe for Summer
Meghna Nath
This Recipe Rate :
(0) Reviews