Easy Coconut Ice Cream Dairy Free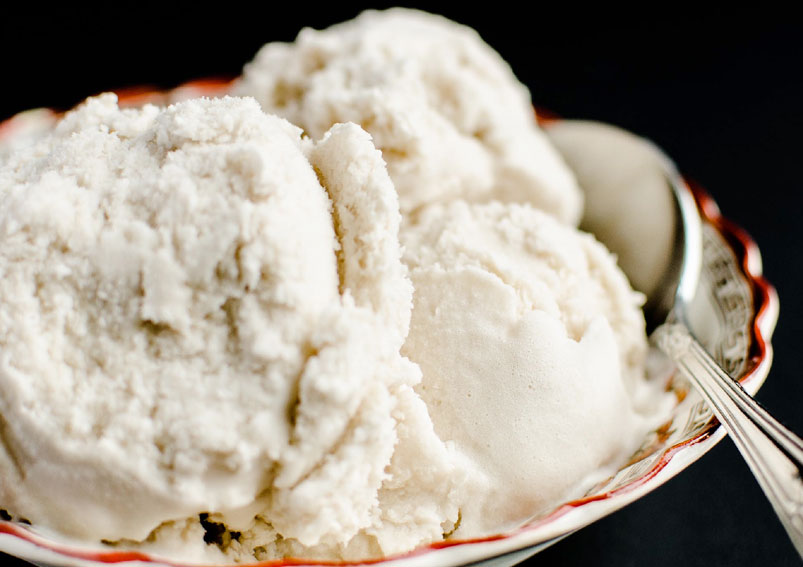 Learn How to Make Dairy Free Ice Cream with just few ingredients. Sprinkle toasted almond pieces to make your ice cream tastier. Have a look at Easy Preparation Process of Ice Cream.
Ingredients
1Vanilla pods
1 teaspoonVanilla bean paste
400gmsLight coconut milk
200mlUnsweetened organic soya milk
165gmsAgave syrup
Directions
Take Vanilla pods and make them half. Scrape out the seeds and place them in a bowl
Add remaining ingredients – vanilla bean paste, light coconut milk, organic soya sauce, agave syrup to the bowl
Stir them well and transfer the mixture to an ice cream maker
Shake it or churn it for about 40 minutes until it becomes smooth
Scrape down the seeds with a spatula and give a final stir
Transfer the mixture in a large freeze proof container
Place the mixture in freezer for about 2 hours and then serve it in ice cream bowls.
If you do not have an ice cream maker, then place the mixture in a large freezer proof container and freeze it for 4 hours. Make sure to whisk every 30 minutes. Know the health Benefits of Soya Milk.
This Recipe Rate :
(0) Reviews