Yummy Egg Plant (Brinjal) Rice Recipe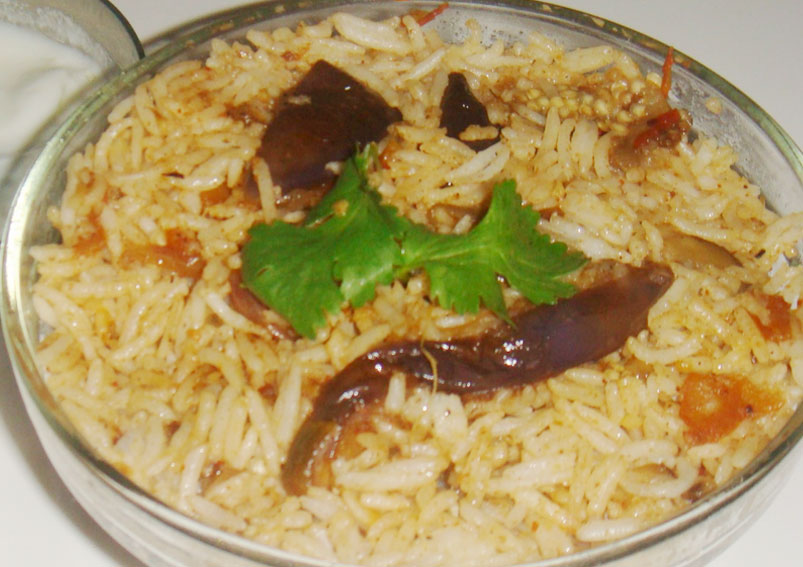 Brinjal is one among the vegetables that most people like a lot. Try Brinjal Rice Recipe in a different way and have it deliciously.
Ingredients
3 tablespoonsOil
5Garlic
4Green chilies
10 leavesCurry leaves
Saltto taste
3gmsTamarind
1 ½ cupEgg plant/Brinjal pieces
1 cupCoriander leaves
½ teaspoonMustard seeds
½ teaspoonUrad dal
½ teaspoonCumin seeds
2Dry red chilies
2 cupsChana dal
2 cupsCooked rice
½ teaspoonTurmeric powder
Directions
Place a pan on flame and heat oil in it
Add garlic, green chilies, tamarind, curry leaves, egg plant, coriander and salt
Fry them for about 5 minutes
Keep them aside and let them cool for few minutes
Grind them into a coarse paste
Add oil in another pan and heat it
Add mustard seeds, cumin seeds, red chilies, chana dal, urad dal, turmeric powder and suate them for a while
Add the egg plant mixture and fry them for 3 to 5 minutes
Add some water to it and fry for 1 minutes
Then add boiled rice and saute for 2 to 3 minutes
The tasty egg plant curry is ready to eat
Serve it a plate along with curd.
Amazing Health and Skin Benefits of Brinjal
-Neelima
This Recipe Rate :
(0) Reviews