Tasty Cucumber Chutney – Dosakaya Pachadi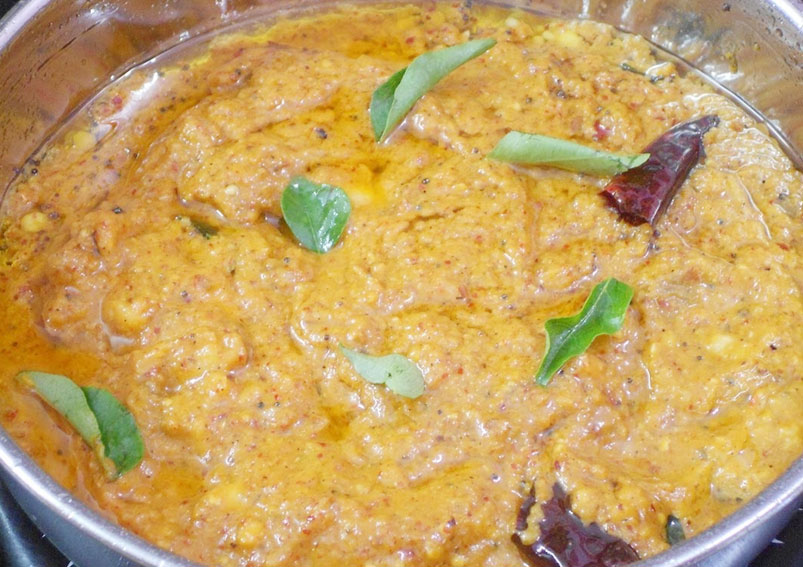 Dosakaya Chutney is the one chutney that is commonly seen in Andhra homes during cucumber season. It goes well with hot rice and ghee. Try this recipe at home.
Ingredients
2Green chilies
1 teaspoonCumin seeds
1Cucumber
littleTamarind
4Garlic cloves
Saltto taste
½ teaspoonOil
½ teaspoonMustard seeds
5 leavesCurry leaves
1 teaspoonUrad dal
1Red chili
Directions
Peel the cucumber and remove the seeds
Wash it with water and cut it into medium size pieces
Place a pan and add red chilies to it
Dry roast for few seconds and add cumin seeds, mustard seeds, coriander seeds
Dry roast them for 2 minutes
Place them in a blender and blend them to fine powder
Add cucumber pieces to it, salt and grind them into paste. Add water if required
Add tamarind to it and grind it in to smooth paste
Place a pan on flame and add oil to it
Once the oil is hot, add mustard seeds, red chilies, urad dal, and curry leaves
Fry them for few minutes
Add the blended mixture to the pan and off the flame
The tasty Cucumber Chutney is ready to eat.
If you want the cucumber pieces to be visible in the chutney, do not add the pieces directly in blender. After blending the red chili mixture, add little bit water and tamarind to it and grind it. Remove it in a bowl and add the sliced cucumber pieces to it. You can have it as a side dish during your meals. Also Try Onion Chuntey if you are bored with the Cucumber Chutney.
-Neelima
This Recipe Rate :
(0) Reviews