Guthivankaya Kobbari Karam Recipe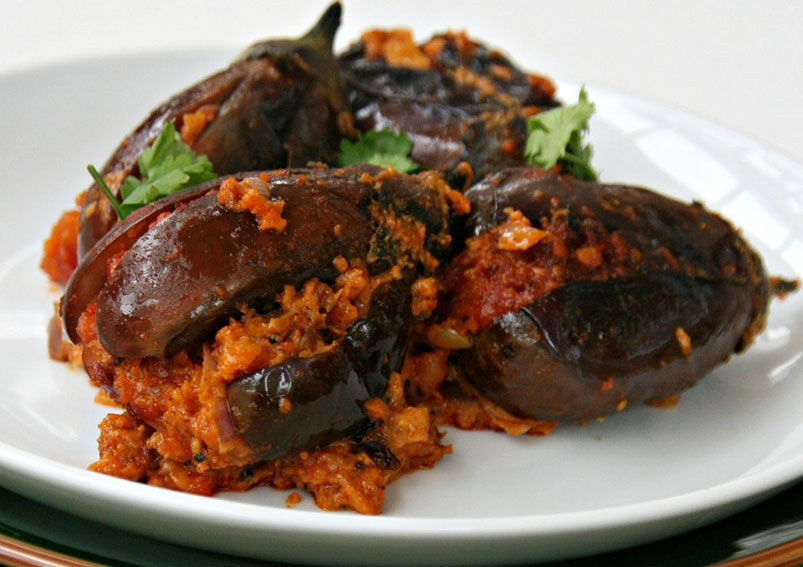 The name does not mean that the preparation of the dish is so tough. Vankaya Kobbari Karam is just simple dish, yet tasty with coconut flavor. Cook the stiffed brinjal on low flame for more taste.
Ingredients
½ kg

Baby brinjals

(gurthi vankayalu)
4 tablespoonsOil
6 teaspoonsKobbai karam
saltto taste
2 tablespoonsRed chili powder
2 tablespoonsTamarind juice
2 teaspoonsCoriander
½ cupWater
Directions
Wash the brinjals in water and dry them using kitchen towel
Cut them just like you write the plus sign without running through the whole brinjal
Place them in salted water
Take a plate and add coconut karam, red chili powder, tamarind juice
Mix them well and put the stuff in brinjals using a spoon
Press the ends tightly so that the stuff do not come from the brinjal
Set them a plate and place a pan on flame
Add oil to the pan and place the brinjals carefully in the hot oil
Cook them for about 3 minutes under low flame and turn them to the other side
Continue cooking for 2 more minutes. Make sure that all the sides are perfectly cooked
If the brinjals are seen overcooked, add few drops of water and cook them
Off the flame and sprinkle chopped coriander leaves at the end.
You need to be careful while flipping the brinjals to the other side as there are chances that the whole stuff comes out of it. Apart from the curry, you can also make Brinjal Rice that tastes good with the Stuffed Brinjal as side dish.
-Neelima
This Recipe Rate :
(0) Reviews