Tasty Mushroom 65 Recipe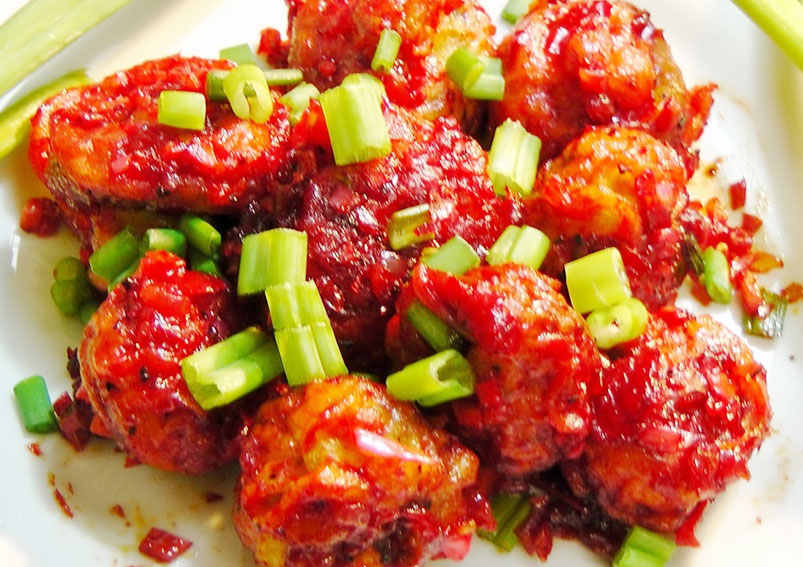 Mushroom65 is an ideal tea time snacks or you can also have it as a side dish with sambar rice or rasam. Try this restaurant style super Delicious Mushroom 65 at home and have it with your family members.
Ingredients
1 cupFresh mushrooms
5Red chilies
1 teaspoonGinger garlic paste
10 leavesCurry leaves
1 teaspoonSugar
1 teaspoonVinegar
1 tablespoonSoy sauce
1 tablespoonPepper powder
1 tablespoonGaram masala powder
2 tablespoonsAll purpose flour (Maida)
2 tablespoonsRice flour / corn flour
Water
Saltto taste
for fryingOil
1 tablespoonSpring onions
Directions
Soak dry red chilies in water for about 30 minutes.
Chop each mushroom to half and keep it aside.
Grind the soaked red chilies into smooth paste. Add water if required.
Remove it in a bowl and add chopped curry leaves to it.
Add garam masala powder, salt, soy sauce, ¼ teaspoon of oil and vinegar.
Mix them well. Add little water if required to form a thick batter.
Place a deep frying pan on flame and add oil to it.
When the oil is hot, dip the mushroom piece in the batter and place it in hot oil.
Continue the same process with remaining mushroom pieces.
Deep fry the mushrooms pieces until they turn crisp all the sides.
Remove them on oil absorbent paper and transfer them to serving plate. Garnish it with spring onions and serve it hot directly or have it with Coriander Chutney.
This Recipe Rate :
(0) Reviews