Easy Pizza Crust Recipe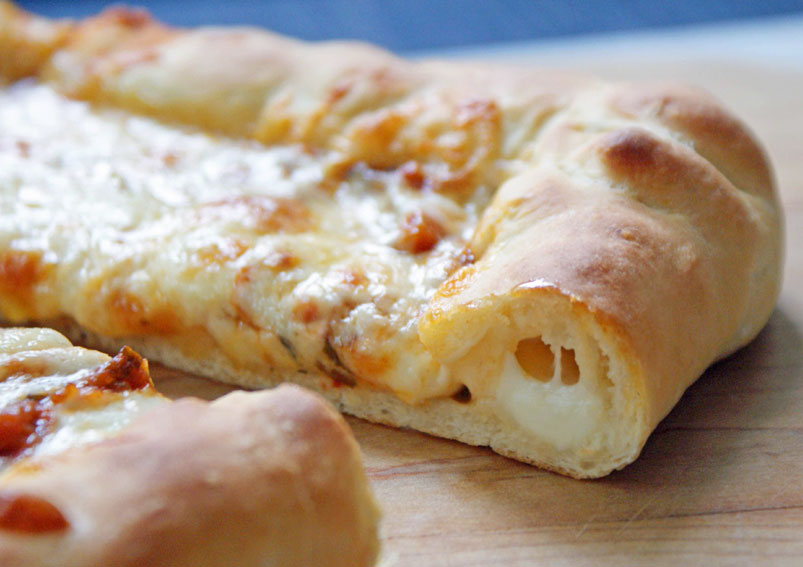 Feeling hungry? Here's a quick and easy recipe of Pizza Crust, which relishes the taste buds. Let's get started with the ingredients and the directions in a step by step method. Pizza lovers must try this lip-smacking recipe to enjoy the essence of the cheesy and crispy taste of the pizza.
Ingredients
1 (.25 ounce) packageactive dry yeast
1 teaspoonwhite sugar
1 cupwarm water (110 degrees F/45 degrees C)
2 1/2 cupsbread flour
2 tablespoonsolive oil
1 teaspoonsalt
Directions
Preheat oven to 450 degrees F (230 degrees C).
In a medium bowl, dissolve yeast and sugar in warm water.
Let it stand until creamy, about 10 minutes.
Stir in flour, salt and oil.
Beat until smooth.
Let it rest for 5 minutes.
Turn dough out onto a lightly floured surface and pat or roll into a round.
Transfer crust to a lightly greased pizza pan or baker's peel dusted with cornmeal.
Spread with desired toppings and bake in preheated oven for 15 to 20 minutes, or until golden brown.
Let baked pizza cool for 5 minutes before serving.
Yummy Pizza Crust is ready to serve, tastes better with veggies.
Nutritional Facts of Olive Oil
It is rich in antioxidants. It is one of the best mono saturated fat. It helps to lower the level of the blood pressure. It helps to maintain the obesity. Although the reasons are still not fully clear, recent studies have proved that people consuming food containing high levels of olive oil are less likely to develop rheumatoid arthritis. Olive oil helps to improve bone mineralization and calcification. It helps calcium absorption and hence plays an important role in preventing the onset of Osteoporosis.
This Recipe Rate :
(0) Reviews