How to Cook Dhaba Dal Recipe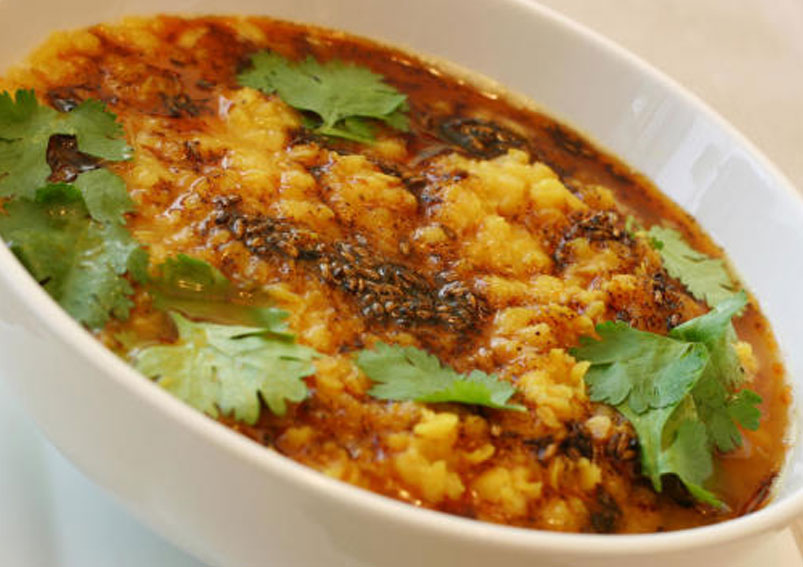 Dhaba Dal is a kind of Dal as they make it at Dhabas. It is a mixture of all varieties of Dals. It is very spicy and smoky. It is a classic recipe that can prepare easily at home. Lets try this Dhaba special Dal.
Ingredients
½cupArhar dal (yellow lentils)
½cupChana dal
1Onion (chopped)
2Tomatoes (hopped)
2-3 tablespoonsgarlic(chopped)
¼ teaspoonGaram masala powder
½ teaspoonChili powder
½ teaspoonTurmeric powder
½ teaspoonCumin seeds
A pinchAsafetida (hing)
Saltas per taste
1 tablespoonGhee or oil
4 cupsWater for cooking the arhar dal
Directions
Clean and wash the lentils.
You can also soak the dals in water for 30-45 minutes before cooking.
Put the dals in pressure cooker along with garam masala powder, chili powder, turmeric powder and salt and boil it till 1 whistle.
Meanwhile, take a shallow frying pan and put some oil/ghee.
Add the cumin seeds and the asafetida.
Now put the chopped onions. Fry them till they become brown
Then add the chopped garlic in the pan
Now add the chopped tomatoes.
Fry the mixture till the tomatoes become soft.
Now open the pressure cooker and transfer the mixture of the pan to the dal.
Now boil it till 2-3 whistles.
Now garnish with coriander leaves and serve hot with chapaties and jeera rice. Also have onion salad to increase the taste.
Also see: Restaurant Style Dal Tadka
This dhaba dal recipe is yummy and very tasty. You can cook it in pressure cooker as well as openly. Add some pure butter or ghee to increase the taste of this spicy recipe.
-Nandini Chauhan
This Recipe Rate :
(0) Reviews