Fruitcake Recipe Christmas Special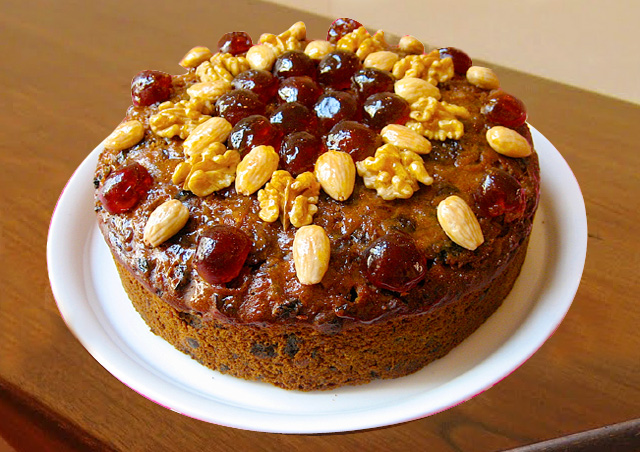 Christmas, festive of candles and gifts, want to surprise your loved one with recipe of cake made up of Fruits and Nuts then cake is the easiest and quick making recipe and also an Occasional recipe for giving it to family and friends.
Let's see the list of ingredients and procedure for preparing the recipe.
Ingredients
450 GmsCoarsely chopped Pitted dates
3 cupsCoarsely chopped Brazil nuts or other nuts
3/4 CupSugar
1 Cup Halved Maraschino cherries
3/4 CupAll-purpose flour
3Eggs
1/2 TspBaking powder
1/2 TspSalt
1 TspVanilla extract
Directions
Step

1

Add Cherries, Nuts and dates in a vessel. Mix the flour, baking powder, sugar and salt then add to nut mixture, stir it until the fruit and nuts are well mixed.

Step

2

Beat the eggs into a small vessel, add vanilla into it and stir it untill well mixed. Now, add this to nut mixture and continue mixing it well. Add the mix into a 9x5 inches greased and parchment paper-lined pan.

Step

3

Start baking at 300 degrees for 2 hrs.

Step

4

Later Cool it and remove from the pan. Enjoy the Friut cake.
This Recipe Rate :
(0) Reviews