Restaurant Style Dal Tadka Recipe – Dal Fry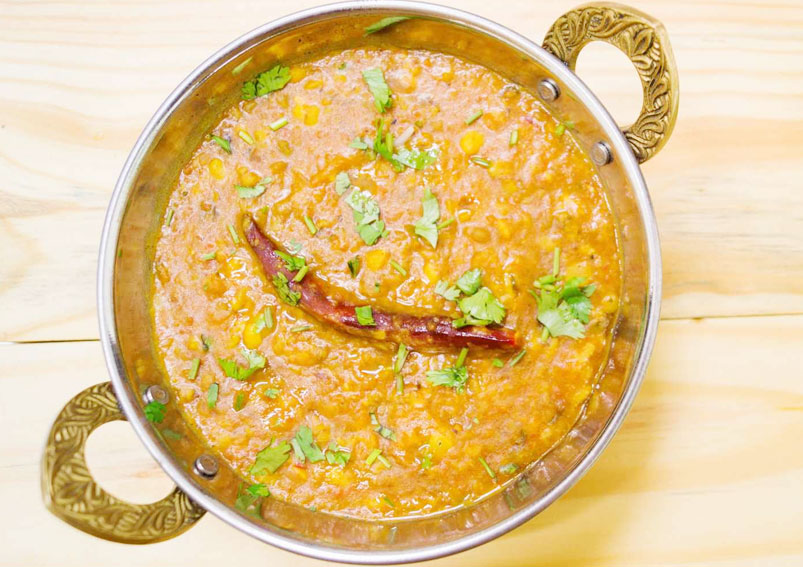 Dal Tadka or Dal Fry is North Indian famous recipe that tastes good with hot pulka. It is an outstanding vegetarian curry and is easy to prepare at any time. Try this at home for your family members.
Ingredients
1/2 cupToor dal
¼ cupChana dal
½ cupTomato
½ cupOnion
3 tablespoonsButter
2Red chilies
1 teaspoonRed chili powder
1 teaspoonCumin seeds
1 teaspoonGinger garlic paste
1 teaspoonRed chili powder
1 teaspoonCoriander powder
½ teaspoonTurmeric powder
Saltto taste
½ cupCoriander leaves
Directions
Wash the toor dal and chana dal with water
Soak in water for about 2 hours
Chop the onions and tomatoes into fine pieces
Add turmeric and salt to the dal and place them in pressure cooker
Pressure cook it for about 5 minutes and cool it completely
Place a pan on fame and add butter to it
When the butter is melted, add ginger garlic paste and saute it for few seconds till the raw smell from the paste disappears
Add chopped onions to it and fry them till they turn golden brown in color
Add chopped tomatoes and fry them till they become soft
Add chili powder, coriander powder in the tomato mixture and cook for 1 more minute
Pour the boiled dal in the pan and mix it well with tomato mixture
Add water if required and boil the dal for about 3 to 5 minutes
Off the flame and add chopped coriander leaves at the end.
Serve it hot with rice. But the Tadka with Dal tastes food with any rotis or parathas. Try it with Broccoli Paratha.
-Neelima
This Recipe Rate :
(0) Reviews