Best Dal Bati Recipe – Rajasthani Dal Bati Recipe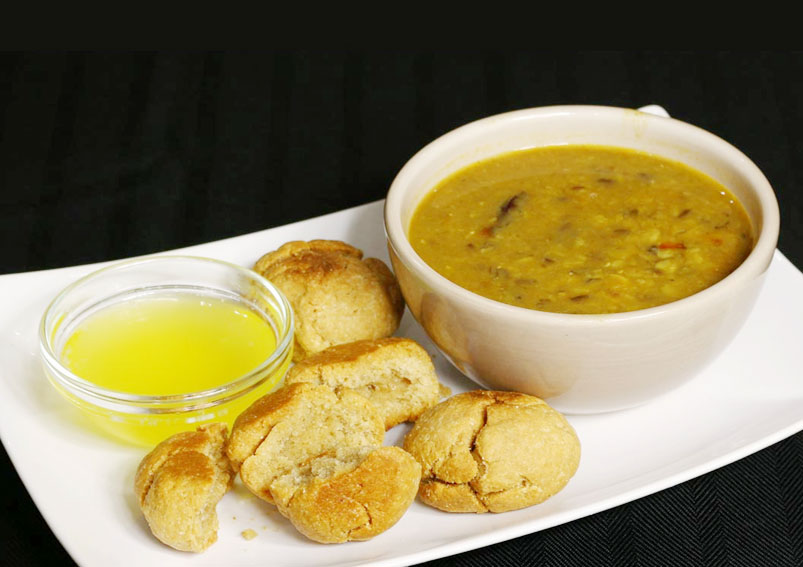 Dal Bati is Rajasthani Recipe and is main dish in most of their get together parties and many other occasions. It is easy to prepare at home when you follow the step by step preparation process here. Have a look.
Ingredients
For dal:
¼ cupChana dal
¼ cupToor dal
¼ cupMoong dal
¼ cupUrad dal
¼ treaspoonTurmeric powder
2 teaspoonsGrated ginger
Saltto taste
1 teaspoonCoriander powder
½ teaspoonGaram masala powder
3 tablespoonsClarified butter
1 teaspoonCumin seeds
½ teaspoonChili powder
2Red chilies
For Bati:
1 cupWhole wheat flour
¼ cupSemolina
¼ cupBaking powder
Saltto taste
¼ cupClarified butter
½ cupMilk
Directions
Wash all the dals and soak in it for few minutes
Place them in pressure cooker and add 4 cups of water to it
Add salt, turmeric, coriander powder, grated ginger and cook in medium flame
When the dal is ready, off the flame and keep the cooker aside to let the pressure off from the cooker
Open the lid and check for consistency of dal
Add water if required
Add garam masala powder and mix them well
Place a pan and butter or ghee to it
When it is hot, add cumin seeds, red chili and red chili powder
Saute them for few seconds and pour it over dal mixture
Mix it well and cook the dal on low flame for about 4 minutes
The tasty dal is ready.
Take a mixing bowl and add flour, sooji, salt and baking soda
Add ghee to it and mix it with hand
Add milk and make a smooth dough
Set it aside for about 10 minutes
Divide the dough into 7 to 8 equal parts and roll them into balls
Make sure that they do not have any crack
Arrange the balls on cookie sheet and bake it for about 25 minutes on 350 degrees F
Turn them over and bake them again on the other side till they become golden brown in color
Remove them from oven and cool them for few minutes.
Batis are ready to serve.
To serve, break the batis into two halves and add few drops of ghee on them. Serve it with bowl of hot dal and let your guest enjoy the taste. You can also have the batis with Yellow Moong Dal Curry and the preparation process is not that difficult that you think. So enjoy batis with any of the curries.
-Neelima
This Recipe Rate :
(0) Reviews